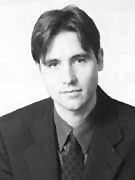 Leonard Lewis
photo by Gary Austin
Leonard Lewis describes his Concerto for Orchestra, written to fulfill his dissertation at the University of Texas, as a "crossroads" in his compositional style. Earlier in his compositional career, Lewis was influenced by the diatonic music of Michael Torke; more recently, he found himself interested in the chromatic writing of Jacob Druckman. In the Concerto, he combines the two compositional languages. The piece is in arch form; the two outer sections are "extremely diatonic," the middle section is more chromatic, and diatonic and chromatic writing are integrated in the coda.
The title of the work refers to the virtuoso playing required of every member of the orchestra. Throughout the piece, the same material is used in each section of the orchestra, often requiring string players to play wind lines, for instance. The piece doesn't escape a few references to the composer of the most famous work in this genre. "One of the opening gestures is influenced by the last movement of the Bartôk," Lewis explained. The arch form, though one of Bartôk trademarks, Lewis claims, was "simply what the music called for."
Lewis is also working on a three-movement work for oboist Erin Gustafson, oboist in the St. Louis Symphony, and a string quartet comprising Symphony players. He was also recently commissioned to write a piece for the Concordia String Trio, a faculty ensemble at the University of Missouri-Columbia.