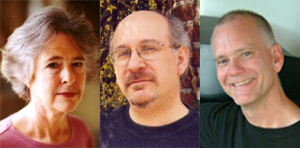 Eleanor Cory, Mathew Rosenblum, and Eric Moe
(l to r) are among the twelve composers to receive 2003 Fromm Commissions
Twelve composers have been awarded $10,000 Fromm commissions from the Fromm Music Foundation at Harvard University.
The composers, selected from among the 149 applications received, are:
In addition to the substantial commissioning subsidy awarded to the composer ($5,000 is provided upfront, which must be repaid to the Foundation if the work is not completed within three years), an additional $3000 may be requested by the group performing the premiere of the commissioned work. These funds are available up to six years after the award date.
The Fromm Music Foundation's mission is "to bring contemporary concert music closer to the public." In addition to this commissioning program, the foundation sponsors the annual Fromm Contemporary Music Series at Harvard and supports the Festival of Contemporary Music at Tanglewood.