Meet The Composer awarded $200,000 to 24 organizations to support the creation of new works by 17 composers through Commissioning Music/USA 2003, a joint program driven by MTC and the NEA. With the most recent grants, MTC maintains its reputation as one of the most significant players in the development of the American new music landscape.
For the past 15 years, Meet The Composer's trademark commissioning program has helped in the creation and production of over 700 works and remains dedicated to getting multiple performances of the commissioned pieces well after their premieres. Just last June, 31 MTC-commissioned composers were featured as a part of "The Works," an intensive 2-day festival that included a marathon concert at Minneapolis' Southern Theater (which was featured in its entirety on a NewMusicBox web cast). "The Works" was a long-awaited opportunity for MTC to showcase the eclectic catalogue of new works that they have supported over the years.
MTC has demonstrated impeccably good taste in the selection of commissioning projects and has supported in the past such monumental works as John Adams's opera The Death of Klinghoffer, André Previn's opera A Streetcar Named Desire, John Corigliano's Symphony No. 1, Philip Glass's Concerto Fantasy, William Bolcom's Symphony No. 6; Meredith Monk's Mercy and Paul Dresher's Sound Stage; Lou Harrison's Rhymes with Silver (for the Mark Morris Dance Group), Zakir Hussain's Flammable Contents, Tan Dun's Concerto for Six Players, Steve Reich's Drumming, John Harbison's Flashes and Illuminations, and Julia Wolfe's Early That Summer. With such a diverse and colorful history, it is not surprising that this year's commissions come in many shapes and sizes, from solo works and chamber pieces to large multimedia music theatre productions and electro-acoustic works.
"Meet The Composer is pleased to continue its deep commitment to commissioning new music from distinctive and visionary musical voices of our time with the 2003 Commissioning Music/USA awards," says MTC president Heather Hitchens. "This year's organizations and composers have proposed an exciting array of projects that will add significantly to the repertoire and connect with audiences across the country."
For composer Anna Dembska, who splits her time between New York City and Maine, the Meet The Composer commissioning grant has been the impetus to complete a project that she conceived of a decade ago with poet/librettist Beatrix Gates. The opera titled The Singing Bridge, is based on a story by Gates and is scheduled to be staged in Spring 2005 by Opera House Arts in Stonington, a remote town in coastal Maine. "In Maine and all over New England there are old opera houses and a lot of them have gotten really decrepit," Dembska explains. "There are 4 women who bought it [the opera house in Stonington] in a state of decay and have started doing really nice things down there…It's really community-based, but also very sophisticated."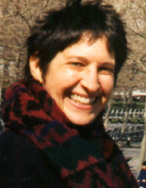 Anna Dembska's opera The Singing Bridge will be premiered in 2005
The work, which gleans its inspiration from an extant metal bridge that use to span a tidal estuary in the state, is a perfect fit for the venue. "Our story is a personal story about a young woman, but her emotional life is reflected in the story of the bridge, so there's a historical story surrounding her personal story," Dembska says of the concept. "And the language of the water and the tides and the bridge are sort of metaphors for her emotional experience."
Dembska, a singer and composer who has been interested in developing the expressive qualities of the voice, plans to incorporate a local flavor in her musical language for the piece. "I'm thinking about the natural sounds of Maine and the local cultural sounds of Maine that have to do with sea shanties and lumbering songs and just the way people talk around here which is really distinctive and has certain kinds of rhythms to it." To get a taste of Stonington's culture, Dembska, Gates and director Valeria Vasilevski spent two weeks in residence at the opera house, interviewing locals about their town and lives. With every new piece of information, the opera has taken a more definitive shape, but it wasn't until the team was notified about the grant from Meet The Composer that an actual production became a reality. "I think when this grant did come through we felt that, ok, now we can do this."
New York composer Harold Meltzer will also be embarking on a collaboration that has been long in the works with his MTC grant. "The Peabodys and I talked about doing something for maybe 4 or 5 years," he recalls. "The pianist in the group, Seth Knopp and I discovered that we were both real fans of this primarily short story writer, who's kind of a surrealist, named Donald Barthelme." This shared interest led to the concept of a piano trio with narrator telling Barthelme's story Sindbad.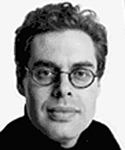 Harold Meltzer received grants as both a composer and as the Artistic Director of Sequitur
The text weaves together Barthelme's humorously warped version of the voyages of Sindbad with the experiences of a pathetic night school teacher who, according to Meltzer, is "constantly trying to inspire his students about romantic literature, but really he's trying to inspire himself to be a more enterprising human being." The final 20-minute product, due for a performance in October, will feature a narrator reading most of the text of the story with synchronized music.
Meltzer admits that with the premiere looming so near in the future, he was beginning to worry about finances. "I was kind of hemmed in because this piece is being presented in a few months and we had no clue where the money was going to be coming from."
But he also acknowledges that while writing a piano trio without firm financial underpinning is stressful, larger works, such as the multimedia work that Matthew Rosenblum will be composing for Meltzer's performing organization Sequitur, are not even in the realm of possibility with out such key support. Sequitur has been anxious to produce Rosenblum's hour-long music theatre piece that requires massive forces including 18 musicians, 3 singers, 1 dancer, and recorded audio and video material. With the help of Meet The Composer, a premiere is tentatively scheduled for 2005 at the Miller Theatre in New York, with a subsequent performance at the Opera Theater of Pittsburg.
In addition to the much-needed financial boost, Meltzer points to another unique aspect of the MTC Commissioning Music/USA program. "It's particularly exciting that I can apply again next year! There's no barrier that way." Unlike many awards such as Fromm Commissions that won't allow recipients to re-apply for 7 years, MTC encourages composers to try again and again, ensuring that works of the highest quality are supported through the program.
The recipients of 2003 Meet The Composer Commissioning Music/USA grants are:
Anna Dembska / Opera House Arts
Paul Dresher / Seattle Chamber Players
Harold Meltzer / The Peabody Trio
Matthew Rosenblum / Sequitur New Music Ensemble
For complete descriptions of the projects and photos of the composers, visit the MTC website.