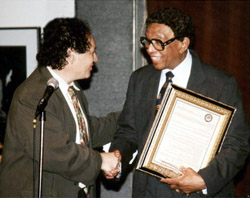 JJA president Howard Mandel presenting a special award to Dr. Billy Taylor
Photo by R. Andrew Lepley, RAL Photography
The Jazz Journalists Association held their annual awards event on Thursday, June 14 at Birdland (44th & 8th Ave., New York City) with over 200 journalists, photographers, broadcasters, new media professionals, musicians and industry executives in attendance. Winners included Joe Lovano (Musician of the Year/Record of the Year), Andrew Hill (Composer of the Year). John Lewis was honored posthumously with the JJA's Lifetime Achievement Award. Click here for a complete list of the awards and winners.)
Based on votes cast by members of the 400 strong JJA international membership, and presented at a benefit for the Jazz Foundation of America, the custom engraved statuettes were presented in 39 categories. J&R Music/Computer World served as the host sponsor and additional support came from The Jazz Store, Jazz Corner, and Columbia Legacy Records. The capacity audience was treated to celebrity Master of Ceremonies Keith David and guest appearances from Joe Lovano, Lionel Hampton, Billy Taylor, Kenny Barron, Eliane Elias, Stefon Harris, George Wein, Howard Johnson, Larry Goldings, Hamiet Bluiett, Jimmy Owens, Jane Ira Bloom, and Regina Carter, among others.
Noted photographer Bill Gottlieb's silent auction raised $2500 for the Jazz Foundation of America's Jazz Emergency Fund. The JJA's awards committee honored JFA co-founders Herb Storfer, Dr. Frank Forte (of the Englewood Hospital Oncology Department) and Billy Taylor.
Presenters included: journalists Nat Hentoff, Ira Gitler, Larry Blumenfeld, Bill Milkowski, Lara Pellegrinelli, Sharony Andrews Green, Ashley Khan and Barry McRae (U.K); Cyril Moshkow, president, Moscow Jazz Journalists Association; Suzan Jenkins, senior vice president of marketing for the RIAA; Martin Mueller, director, New School; Lauren Deutsch, executive director Jazz Institute of Chicago; JJA President Howard Mandel; and NewMusicBox editor Frank J. Oteri.
A History of the jazz awards is viewable in the library of Jazzhouse site of the Jazz Journalists Association.