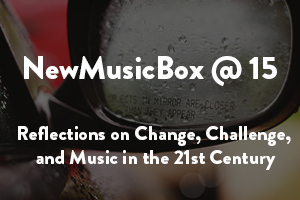 Sure, Mark Zuckerberg and pals launched Facebook in 2004, but NewMusicBox was already cruising into its 5th anniversary by that point. For the traditionalists in the house, the appropriate gift is wood, which we needed because the year was rife with arguments over fences. That's right—I'm talking about of the blurring of genre lines.
The launch of New Amsterdam Records was still four years off, but the chatter surrounding this muddying of artistic indicators had already turned our heads. Of course this wasn't exactly an original concept way back in 2004 either, but technology and easily accessible programs such as GarageBand were changing the landscape. With the broader availability of basic tools, gates were opening and an increasing number of music makers were walking through. Could the cost of and aptitude for lengthy training (which limited participation in certain kinds of music making) be circumvented, or at least mitigated, by software? This seemed to get everyone thinking.
We here at NewMusicBox were certainly thinking about the opportunities that rapidly developing tech and web interconnectivity offered. When the site launched in 1999, it was meant to serve as a national gathering place and resource for an industry often siloed in discrete geographic pockets. It might be difficult to rewind to a time when personal music blogs were still considered "experimental" now that we're ankle deep into a discussion of their decline, but there was an energy and excitement to these new and strengthening virtual relationships. Though this was also the year that the performing arts pooled their knowledge under a single convention center roof in Pittsburgh for some real-world problem solving, music makers and fans were sharing their sounds and ideas with one another regardless of zip code in ever-growing numbers—fueled by passion and linked by an internet connection.
The field may have drawn some strength from this increasingly connected community of colleagues, but there were still lines in the sand—even if the winds of change were making them harder to see. There was an appreciation by an impressive list of thinkers for music that was personally important to them even though it remained professionally "other." There were those ready to pull down the barriers between pop and classical, but there were still those defending the disappearing divider. For those so up-close-and-personal with the music that it was difficult to label anything accurately, there were guidelines for that. Still, whether we liked it or not, the music seemed to be telling us that the new common practice was no common practice at all. Even the Pulitzer Prize board admitted that it was time to make some adjustments. There were rules, and they were being torn up and rearranged in the quest for new music. But if we were expecting pop music to enter the new music arena and save our industry from obsolescence, we were strongly advised not to hold our breath.
Additional NewMusicBox @ 15 Posts
In honor of NewMusicBox's 15th anniversary, we ask that you please refrain from sending us wood. Instead, make a gift today to support future genre-blurring coverage from NewMusicBox!