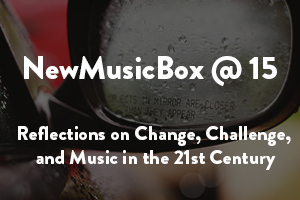 A chair is a terrible thing to waste, and in 2006 any and all vacancies were weighing heavily on our minds.
It's not that we didn't already know we had an audience problem, but we couldn't fundamentally agree on what the root cause actually was. Could it be the Monty Python-worthy stagehand sketches being enacted in our concert halls? Would it be best to run away to a more relaxed outdoor venue?
Perhaps an outright ambush was in order.
Venue was a central variable in the new equations, that's for sure, and long-term solutions meant more than just locating a cooler landlord with a liquor license. Yet setting aside the trappings left even more essential questions on the table. Perhaps we had gotten a little too friendly with our genre neighbors and were diluting the whiskey rather than expanding the guest list. Or maybe we were looking at the wrong urban role models and, with our eyes glued to the shoreline, were missing the inspiration to be found in the Heartland. It was time to play hardball. There were some tough truths to be spoken, but were we ready to hear them?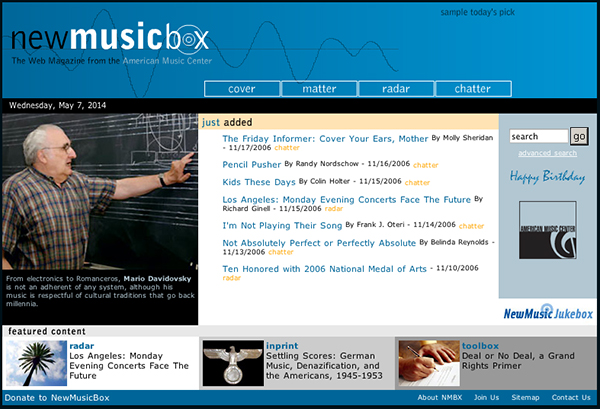 Or maybe this boat had already hit the iceberg and we should just make sure the monks had copies of our scores for safe keeping before our culture went up in flames. And for all those getting judge-y about Pops programs? "Thanks for sending us your fleeing concert hall patrons!" they shouted back. "Your close-mindedness will complete your downfall."
Admittedly, all this handwringing over ticket sales was a convenient distraction from our more personal career frustrations in an industry where it's too easy to be almost successful.
Sorry, sorry, I'm getting bleak—and we're not even close to the economic challenges of 2008 yet! In many ways things were still the same as in years gone by. We were still exploring technology and getting giddy over the advancing opportunities for creative music making. We were still arguing over the continued existence of the Uptown/Downtown divide. We were still struggling to come up with the perfect title.
And on the up side, we were singing our own songs and singing them proudly! (But only once we had legally cleared permission to set the text, of course.) Big bands and small electronics were turning ears and inspiring composers. Keeping things fresh and optimistic, the whippersnappers were reporting in on their first experiences with major orchestras. Colin Holter began graduate school and took us along for the ride. He would write a weekly column for the next six years (right up to his doctoral dissertation defense) and poke sticks into a number of beehives during his tenure, but he would never miss a deadline.
Not. Once.
Additional NewMusicBox @ 15 Posts
So many composers, performers, administrators, and fans have told their stories on the pages of NewMusicBox over the last 15 years. What stories will you tell over the next 15? Make your gift in honor of NewMusicBox@15 to ensure a strong future for this invaluable community resource.