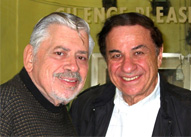 Robert B. Sherman and Richard M. Sherman.
The Fisk Jubilee Singers, The Presser Foundation, jazz pianist Hank Jones, and the songwriting team The Sherman Brothers are among the nine recipients of the 2008 National Medal of Arts, the nation's highest honor for artistic excellence. President George W. Bush presented the awards during a ceremony at the White House on Monday.
According to a release from the National Endowment for the Arts:
Fisk Jubilee Singers are being recognized for their significant contributions to preserving African American spirituals. For 137 years, the chorus has performed in the United States and around the world, sharing America's rich cultural heritage.



Hank Jones is being recognized for his lifetime accomplishments as an extraordinary jazz pianist. Hank Jones is a pianist who has performed in a vast array of settings, always lending his distinctive, swinging sensibility.



The Presser Foundation is being recognized for its longstanding support of music and music education in the United States. For nearly a century, The Presser Foundation's philanthropy for music and music educators has been a lifeline to a vulnerable field.



Brothers Robert B. Sherman and Richard M. Sherman have a song-writing career spanning five decades that includes two Academy Awards, one for Mary Poppins (score) and one for "Chim Chim Cher-ee" (song). The Sherman Brothers also wrote the world's most translated and performed song, "It's A Small World (After All)".
—MS