As you may have noticed, our artist interviews are a hugely important part of "The Box." Years before I started working here, I loved reading the interview transcripts and watching the videos, and I appreciate the variety of musicians and genres represented—from those on the cusp of notoriety to those working solidly within the fray…
…to seasoned veterans such as Willie Colón, whose interview is probably one of Frank's proudest moments. In my opinion as a former percussionist, a little salsa makes everything better!
(Note: We often joke about how inevitably we end up taping interviews on the coldest and the hottest days of the year, and I've heard numerous retellings of the interview with Ikue Mori, which is apparently burned—so to speak—into memory for its heat stroke factor.)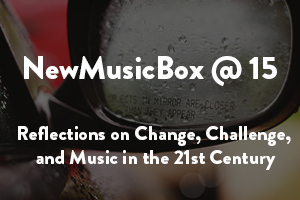 In addition to assorted Middle East political woes, 2009 was a complicated year in the world financial landscape, and while the pop music world was rocked by the unexpected death of Michael Jackson, the arts world also lost two immensely influential figures: Betty Freeman and Merce Cunningham. I imagine those three meeting at the pearly gates and bemoaning the music industry's increasingly frequent use of autotune.
Do you remember the sad and strange vanishing composer story? This was also the year without a musical genius. Fortunately there is comfort to be found in the company of our feline friends.
On the bright side, 2009 also marked the 10th birthday of NewMusicBox (can you tell we like to party?)…
…along with some interesting music world newness like officially sanctioned online score perusal, a surprisingly excellent composer residency situation in Chicago, one of the smartest hires ever for a major concert presenting organization, and an honor for a life of listening deeply.
Additional NewMusicBox @ 15 Posts
FRANK J. OTERI: And you commission it, but it's not really yours. You get to hear it but then it belongs to the world.
BETTY FREEMAN: That's the way I like it.
Like the music we write about, NewMusicBox belongs to everyone. New Music USA is a public trust. Your support, quite literally, enables us to move this organization forward, to strengthen the community, and to hold up new American music for the world to hear. Please contribute in honor of NewMusicBox@15!