On December 6, 2000, the American Society of Composers, Authors & Publishers announced the winners of the 33rd annual ASCAP-Deems Taylor Awards for outstanding print and media coverage of music in 1999. The winners were honored at a special reception hosted by ASCAP President and Chairman Marilyn Bergman at Lincoln Center's Kaplan Penthouse in New York City. Over the years, tens of thousands of dollars have been distributed in cash prizes to winning authors, journalists and broadcast producers and personalities.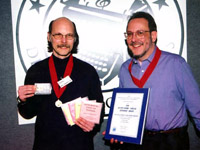 David Gunn and Dennis Bathóry-Kitsz
Photo by R.J. Capak
Multiple awards went to broadcasts and publications dealing with new American music. One of the two Internet Awards, for instance, went to Kalvos and Damian's New Music Bazaar, created and hosted by David Gunn and Dennis Bathóry-Kitsz.
"The award is quite heavy, but I like the colors a lot," Bathóry-Kitsz stated in a phone interview. "We certainly didn't expect it. Five and a half years ago, we had no expectation that anyone was going to notice." Kalvos and Damian started their radio show in May of 1995 and went online in September, making them pioneers in the use of online audio. "Composers got interested, so we bought cheap plane tickets, and went off and interviewed composers." The duo has recorded 142 interviews since 1995.
A formidable challenge for Kalvos and Damian, however, has been lack of funding. Bathóry-Kitsz and Gunn, who are both composers in their own right, have thrown $30,000 of their own money into the show, but aside from an unexpected $5000 gift from the Argosy Foundation in October of 2000, all they have received is "a few random contributions." The show is hosted, both on the air and online, by WGDR-FM, a community station that is "half-supported" by Goddard College in Northfield, VT. "The station relies on community fund-raising and community programmers," Bathóry-Kitsz explained. "It's a very good little station, but there is a lot of difficulty raising money." As a result, Bathóry-Kitsz and Gunn wear many hats: producers, hosts, engineers, and web designers.
"We don't have plans, because plans depend on money. We have goals." The Argosy Foundation gift has started them on "the next plan that is actually a plan," traveling to the West Coast to tape some interviews with composers unable to travel to their studio in Vermont. There are "about twenty" composers who are "official," people like Maggie Payne, Carl Stone, David Jaffe, Paul Reale, Pauline Oliveros (their second), and Nancy Bloomer Deussen. Another plan, but one that would require both funding and volunteers, is to transcribe the interviews. Of the 142, only two have ever been transcribed. Bathóry-Kitsz feels that downloadable transcriptions are essential to making their site "100% accessible."
"Maybe we're not astute, " Bathóry-Kitsz concludes, "but we really believe that composition is out there and alive. So far it has been successful." Bathóry-Kitsz feels that "composers got a bad name in the 20th century. Say 'composer' to anyone and their skin cracks." So they try to take a fresh approach. "We don't do the old 'Milton Cross Saturday Afternoon at the Opera' routine – these are fun interviews," Bathóry-Kitsz assured me. "We don't ask people to philosophize about their compositional approach – that is deadly dull radio."
Kalvos and Damian have also organized an online mentoring project that allowed composers like Nick Didkovsky, Rhys Chatham, and Pauline Oliveros to give junior high and high school students immediate feedback on their work. They are currently seeking funding for another year of the project. Bathóry-Kitsz hopes that the Deems Taylor Award will help make them more visible to audience members enthusiastic enough about their work that they will help financially support some of their initiatives.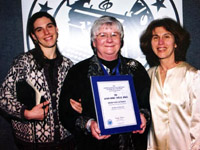 Heidi Von Gunden
withgranddaughter (l) and daughter (r) of Vivian Fine
Photo by R.J. Capak
Heidi Von Gunden was honored for her new book, The Music of Vivian Fine (Scarecrow Press). Von Gunden, who is Associate Professor of Composition and Theory at the University of Illinois Champaign-Urbana, first met Fine when she was a student at University of California San Diego. Fine was teaching at Bennington, and had been invited to UCSD as a guest. "I was entranced by her attitude towards music," Von Gunden explained.
Before starting research on the book, Von Gunden invited Fine to visit one of the composer forums regularly held at Champaign-Urbana. "At the time, the forums could be quite vicious," Von Gunden explained. "But Vivian's presentation was wonderful, and everyone was impressed. It was a great event. I kept saying to myself, I really want to study her music."
During the four-year research process, Von Gunden communicated with Fine via telephone every other week. Von Gunden described the work as "pure pleasure." "Vivian had an incredible gift," she commented. "Her music was her life, and she learned from music." (Fine never completed high school, in fact.) "She was also an incredible pianist, and she could sight-read anything – that's how she learned." Von Gunden likened Fine to Mozart. "She did not belong to any camp, she simply wrote what she heard and wasn't ashamed of it." Also like Mozart, "she never listened to her music, because she heard it in her head. "Von Gunden's favorite composition by Fine is her Mass. "It is so experimental and lyrical – Vivian to the core, it mixed all her interests."
The Music of Vivian Fine is the only book available about the composer's life and music, and it contains an extensive bibliography and discography. "I tried to show the scope of how she evolved as a composer," Von Gunden explained. Fine was able to see the book before she died in a car accident in March 2000, and gave it her warm approval. "I hope the Deems Taylor Award will help bring the book some notice," Von Gunden confessed, "and that people will start to pay more attention to her music."
Howard Pollack was honored for his new book, Aaron Copland: the Life and Work of an Uncommon Man (Henry Holt), and James B. Sinclair was given a Special Recognition Award for his Descriptive Catalogue of the Music of Charles Ives, published by Yale University Press.
Of the authors and publishers honored for short written works, particularly notable were Chip Stern, for his article on Paquito D'Rivera for JazzTimes, and Richard Stim, for his article "From Piano Rolls to MP3's: The Legal Perspective," published in NARAS Journal. A Special Recognition Award was presented to John Michel and Tom Voegeli for the daily syndicated radio program Composers Datebook.
Michel, Executive Producer of Composers Datebook, called the Deems Taylor Award "the surprising but oh-so-gratifying culmination of my many years 'in the galleys' of public radio, trying to do some good for the cause of the old AND new music I find so fascinating and compelling."
Michel worked at Minnesota Public Radio for 18 years (1977-1995) before joining the staff of the American Composers Forum. "In 1995, I really thought my radio days were over, but I was assigned by the Forum to tackle the Composers Datebook radio project in 1999."
The Forum interested the James Irvine Foundation in this concept, and their funding enabled him to assemble a seasoned production team that included Tom Voegeli as the project's studio producer. "We were lucky to interest Tom in the project," Michel commented, "he's a very busy boy these days!"
Composers Datebook was launched on thirty stations in March 2000, and has received positive feedback from both composers and listeners. "From the start, we did not want to 'preach to the converted,' Michel explained. "That's easy to do. The greater challenge was involved bringing our message across in the increasingly conservative programming market of classical music radio stations. We wanted to somehow link composers of the present and recent past into the continuum of Bach, Beethoven and Brahms, to show what more recent composers have in common with their more familiar predecessors."
Michel describes the tone of Datebook as that of "sidewalk preacher who, rather than ranting at people about what they should do, is actually entertaining them so they stop for a bit to listen. The preacher still manages to get his core message across but a non-threatening way, so that people might say to themselves 'Yeah, he's got a point there.' Catching the classical music audience on radio for 3 minutes, 5 times a week is a little like that: if we can link Wagner and Stockhausen or
Terry Riley and Richard Strauss in an entertaining and ear-catching manner, we may just pique someone's curiosity, pass on some information that will "stick" and even — occasionally — start to break down their prejudice and preconceptions about 'new' music."
The show's premise seems to be working: Composers Datebook now airs on over 170 stations in large and small markets in 32 states and Puerto Rico. There is also a Composers Datebook Web site containing sound files of all the shows that have aired since July. "I like the fact that we're on a spectrum of stations: from the very smallest college stations, where the announcers and programmers of the next generation may get some exposure to the work of newer composers, to large-market public and commercial classical stations."
An ASCAP Deems Taylor Special Recognition Award was given to Billboard's Deputy Editor, Irv Lichtman. Lichtman, who recently announced his retirement at the end of 2000, was cited for 45 years of outstanding work as a music industry reporter and editor for Billboard and other trade publications.
The ASCAP-Deems Taylor Broadcast Award in Television honored the 23-hour jazz cable programming service BET on Jazz. The Radio Award went to the Fordham University station WFUV Radio, New York, for its programs City Folk, The Big Broadcast and Swing Time. An Internet Award was also presented to MTVi News.
The authors and publishers of six additional books received awards. Henry Sapoznik and Schirmer Books were honored for his new book Klezmer! Other award-winning authors were: Joel Lester, for Bach's Works for Solo Violin; Thomas J. Mathiesen, for Apollo's Lyre; James Miller, for Flowers in the Dustbin; Tony Scherman for Backbeat: Earl Palmer's Story; and Charles K. Wolfe for A Good-Natured Riot.
The six additional writers and honored for shorter music-related works were Billy Altman, Audra D.S. Burch, Jim Farber, Johanna Keller, Guy Lesser, and Bruce Watson. Special Recognition Awards were also presented to James F. Bollman and Philip Gura, Maureen Callahan and Dave Moodie, Joe Levy, and Richard Sudhalter.