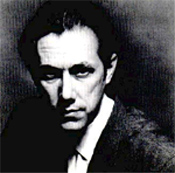 Mikel Rouse
The Foundation for Contemporary Performance Arts has awarded $350,000 in grants to support innovative artists and arts organizations. Twelve grants of $24,000 each have been given to artists working in the U.S. and abroad, including five to musicians—David First, Jin Hi Kim, Jim O'Rourke, Mikel Rouse, and Michael Schumacher. In addition, $61,000 has been distributed among 40 arts organizations across the country.
This year's recipients, ranging in age from 29 to 56, are at a variety of stages in their careers. No restrictions are placed on how the award money is to be spent; they are free to use their award money as they see fit to develop their art. The foundation, Executive Director Mary A. Judge explains, is "really supporting an artist on the basis of the work they've already produced. It can be research and development support, it can be support for a new project. It's really entirely up to the artists. There's a feeling that the artists would be the best judge of how the money should be used."
Mikel Rouse intends to use his award to continue work on his large multimedia, film/live performance piece Monitor. He explains that the work is based on a musical structure that will incorporate channel surfing. Twelve films/television shows/commercials are currently being created around the world and when complete Rouse will weave them into a multimedia DVD and live performance piece. Known for crossing genres and art forms in his productions, Rouse points out that "even when I'm working on, say, a CD recording, my interest and expertise in painting and filmmaking come along with me. I think this multi-perspective is an absolute necessity in the 21st century.""
Michael Schumacher is a composer of electronic sound installations, acoustic music, and taped and live music for prepared electric guitar and synthesizer. He says he's "still debating" how he'll use the award. He just released an album of computer music and is currently at work on another. "I'm working in stereo," he says, "which is something quite new for me." He holds degrees in composition from Indiana University, Bloomington, and The Juilliard School. Together with Liz Gerring, Schumacher founded Diapason, a sound and intermedia gallery, in April 2001. The Diapason was also awarded a grant from the Foundation for Contemporary Performance Arts this year as an organization, which Schumacher says will be used exclusively to pay the artists who perform there.
Composer and guitarist David First is an active performer in the New York area and has presented his sound installations internationally. First's most recent projects include A Bet on Transcendence Favors the House, a large-scale drone piece for mixed ensemble and computer; the music for Optic Fever, a multi-media production created and directed by Theodora Skipitares (La MaMa Annex Theater); and the Universary Orch, First's experimental ensemble.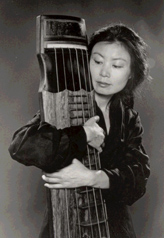 Jin Hi Kim
Photo by Camilla Van Zuylen
Korean-American composer Jin Hi Kim is an internationally recognized komungo (a fourth century fretted board zither) player known for her fusion of eastern and western culture. Kim says she plans to use her award to begin a new orchestra piece that is scheduled for premiere by the Boston Modern Orchestra Project in 2003. The work will actually be the second section of a piece she has titled Eternal Walk. "The idea is that I will write one orchestra piece in my life," she says, each time adding another section which can be performed independently or with other sections. This particular section will feature the Korean Dance Drum. Any money left will go towards releasing recordings of her work. "Many of my works have been performed, but I never had the chance to have CDs because of lack of funding," she explains in her soft, hesitant English. "I'm excited about the award, but money goes so fast."
Jim O'Rourke is a guitarist and composer who has been variously labeled "avant-garde," "post-classical," and "experimental," though one interviewer just couldn't get over that he was "such a nice guy." He's worked with such names as Henry Kaiser, Illusion of Safety, John Oswald, Christoph Heemann, John Duncan, Voice Crack, Eddie Prévost, Kazuyuki Null, Louis Moholo, Derek Bailey, Eugene Chadbourne, Hugh Davies, Keith Rowe and David Jackman. The Chicago native's discography is as varied as it is long.
The Foundation for Contemporary Performance Arts was established by Jasper Johns and John Cage in 1963, and was initially funded by an exhibition organized to raise money for artists working in the field. Today that tradition continues and the foundation puts out calls for donations from around the globe. The most recent benefit, "Drawings & Photographs," was held last December at Mathew Marks Gallery (NY) and featured the work of more than 260 artists.
The award recipients are selected by the foundation's board of directors based on the nominations of artists and arts professionals. The board currently includes Brooke Alexander, Jasper Johns, Julian Lethbridge, Phill Niblock, and John Silberman. This year, choreographer Neil Greenberg and musicologist Laura Kuhn joined the directors in the selection process. Though individual artists do not need to be U.S. residents, presenting and service organizations must be based in the States.
"Most of our support goes to individual artists and there didn't seem any point to branching out to organizations working elsewhere since we can't even support all the organizations working here," notes Judge. And of those receiving grants, most seem to be located in New York. "There really just isn't enough money [to do more]. It would be nice if there were."
Music
David First, New York, NY
Jin Hi Kim, Black Rock, CT
Jim O'Rourke, Chicago, IL and Brooklyn, NY
Mikel Rouse, New York, NY
Michael Schumacher, Brooklyn, NY
Dance
Dean Moss, Brooklyn, NY
Tere O'Connor, New York, NY
Sally Silvers, New York, NY
Theater/Performance Art
Caden Manson, New York, NY
Poetry
Erica Hunt, New York, NY
Anne Waldman, Boulder, CO
Visual Arts
Young-Hae Chang Heavy Industries, Young-hae Chang and Marc Voge, Seoul, Korea
Grants to Arts Organizations ($500 to $5,000)
Aaron Davis Hall, New York, NY
Art in General, New York, NY
Artists Space, New York, NY
Arts at St. Ann's, Brooklyn, NY
Bang on a Can, New York, NY
Black Square Editions, New York, NY
BOMB Magazine, New York, NY
Chashama, New York, NY
Classic Stage Company, New York, NY
Composers' Forum, New York, NY
Creative Time, New York, NY
Cunningham Dance Foundation, Cunnigham Studio Rental Program, New York, NY
Dance Theater Workshop, New York, NY
Danspace Project, New York, NY
Diapason Sound and Intermedia Gallery, New York, NY
Dixon Place, New York, NY
Djerassi Resident Artists Program, Woodside, CA
The Drawing Center, New York, NY
Exit Art/The First World, New York, NY
Greenwich House Arts, New York, NY
Harvestworks, New York, NY
HERE, New York, NY
Independent Curators International, New York, NY
The Joyce Theater Foundation, Joyce SoHo Presents, New York, NY
The Kitchen, New York, NY
MAD ALEX Arts Foundation, New York, NY
Mobius, Boston, MA
Movement Research, New York, NY
New Arts Program, Kutztown, PA
New Dance Alliance, New York, NY
New Museum of Contemporary Art, New York, NY
O Books, Oakland, CA
PAJ: A Journal of Performance and Art
Performance Space 122, New York, NY
The Poetry Project, New York, NY
Roulette Intermedium, New York, NY
651 ARTS, Brooklyn, NY
Soho Repertory Theatre, New York, NY
Tigertail Productions, Miami, FL