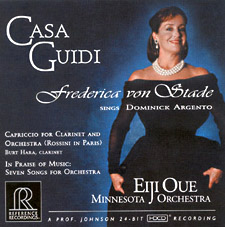 LISTEN to a RealAudio except of Casa Guidi
The GRAMMY Awards were presented last night during the 46th Annual glitz fest held in Los Angeles. The industry party honored scores of artists and musicians on and off the camera. Once again, awards for classical music and jazz were held prior to the evening event, although some jazz artists performed with pop acts during the televised proceedings and Joshua Bell was on hand to make a presentation. A complete list of winners is available here.
A few composer-related highlights to note here:
Dominick Argento's Casa Guidi [Reference Recordings] featuring Frederica von Stade, mezzo-soprano; Eiji Oue; Minnesota Orchestra picked up Best Classical Contemporary Composition.
Wayne Shorter's "Alegría" [Verve Records] got the Best Jazz Instrumental Album nod. Shorter was also recognized with a Best Instrumental Composition award for Sacajawea.
Also in jazz, the Michael Brecker Quindectet were recognized with a Best Large Jazz Ensemble Album for Wide Angles [Verve Records], and Brecker and Gil Goldstein were also took home a statue for Best Instrumental Arrangement of Timbuktu.
The new Broadway cast recording of Gypsy (Jule Styne, composer; Stephen Sondheim, lyricist) picked up the Best Musical Show Album.
Composer Howard Shore took home a Grammy for Best Score Soundtrack Album for his work on The Lord Of The Rings – The Two Towers.