In late May, fifty young composers were honored by the charitable arms of the American performing rights organizations ASCAP and BMI. Keeping with their tradition of supporting composers in their early career stages, both organizations collectively distributed approximately $60,000 in scholarships, grants, and cash awards. Submission guidelines vary—applicants to the BMI Student Composer Awards must be age 26 or younger, while ASCAP Foundation Morton Gould Young Composer Awards applicants must be 30 or younger. Nevertheless, combined submissions nearly reached the four-digit mark, providing substantial evidence that the study of traditional music composition has not been snuffed by the supposed ennui of youth culture.
Both organizations fête the winners with award ceremonies and receptions. Beyond the expected pomp and circumstance that accompanies any such ceremonial, these annual affairs are charged with the thrill experienced by the young composers as they are recognized for their talents by the concert music establishment. The positive vibe permeates the air. Everyone in attendance, from the awardees themselves and members of their family to Pulitzer Prize winners and publishing bigwigs, seems to succumb to the excitement of the moment. And afterwards, I leave already looking forward to next year's parties.
BMI Student Composer Award Winners:

Niccolo Athens

Jacob Bancks

Jacob A. Barton

Stephen T. Danyew

David MacDonald

Daniel A. Tacke

Colin Tucker
Jury members: Michael Daugherty, Mario Davidovsky, Tobias Picker, Roger Reynolds, and José Serebrier. Preliminary judges: Chester Biscardi, David Leisner, and Bernadette Speach.
May 22, 2006
The 54th annual BMI Student Composer Awards began with brief speeches by Ralph N. Jackson, president of the BMI Foundation, Inc. and director of the BMI Student Composer Awards, and BMI President and CEO Del R. Bryant, which set an appropriate celebratory tone at the outset. Then, Milton Babbitt took over as master of ceremonies, using his wit and charm to make the evening even more memorable. In the midst of assorted 90th-birthday celebrations, the legendary composer received an extremely warm welcome from the crowd, which he eventually cutoff by saying, "I know I deserve it, but you have to stop sometime!" The applause eventually did stop and, one by one, Babbitt presented ten awards to composers ranging in age from 17 to 26. Besides the opportunity to mingle and rub elbows with the many luminary composers in attendance, all of the winning composers shared cash rewards totaling $20,000. Jackson noted that there were some heated debates in the jury room, sparked by the high quality of work submitted and the difficult task of whittling down a final list from the initial 400-plus entries.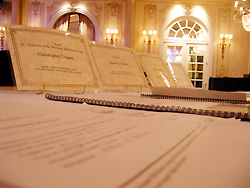 The table of scores at the BMI Student Composer Award ceremony
Immediately upon entering the Grand Salon of the Jumeirah Essex House, a hotel nestled at the southern lip of Central Park, attendees were greeted by a table of the winning scores. Placards bearing the name and age of each composer, along with the title of the awarded work, accompanied the scores. I was heartened to see a handwritten score, Daniel A. Tacke's Lvminvs for string trio, among the usual Finale and Sibelius offerings. Besides revealing insight into the musical mind-set of the young awardees, this table often displays their sense of humor. You see, this competition is adjudicated anonymously, and often the composers come up with hilarious pseudonyms. Sometimes these noms de plume are cryptic in their references, inscrutable even, or just downright weird.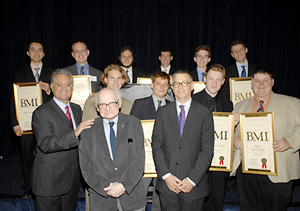 (Back row) Student Composer Award winners Gilbert Galindo, Jacob Bancks, Jacob A. Barton, Stephen T. Danyew, Niccolo Athens and Daniel Thomas Davis; (second row) BMI President & CEO Del Bryant, Student Composer Award winners Colin Tucker, Christopher Trapani, Daniel A. Tacke and David MacDonald; (front row) Awards Chairman Milton Babbitt and BMI Foundation President Ralph Jackson.
"Dravermus," "PZSQ9," and "Beaument"—Comic book hero? Canadian postal code? The winning horse in the fourth race? Actually, these were the names that this year's jury members (Michael Daugherty, Mario Davidovsky, Tobias Picker, Roger Reynolds, and José Serebrier) and preliminary judges (Chester Biscardi, David Leisner, and Bernadette Speech) used, respectively, to refer to Gilbert Galindo, Christopher Trapani, and 17-year-old Niccolo Athens, who, as the youngest composer to win this year, received the Carlos Surinach Prize. Intrigued by this practice, which certainly injects a bit of fun into the tedium of filling out application forms, I asked David MacDonald (who was recognized for his work Elegy for soprano, baritone, French horn, and string quartet) the genesis of his alternate identity, "Ramtha."
Between sips of champagne he explained that he lifted it from the documentary What the #$*! Do We Know. Turns out that Ramtha was a Lemurian warrior with a proficiency in out-of-body experiences and supposedly lived over 35,000 years ago. Now, it seems, he's a spiritual teacher channeled through Judy Z. Knight. While MacDonald worked the metaphysical angle, Jacob A. Barton explained that he was simply "looking for something aristocratic." Understandable since his alias, Gerginald Puskins, was associated with a piece for microtonal player piano titled Xenharmonic Variations on a Theme by Mozart which, besides a roll of hole-punched paper, had no score to speak of. When confronted with the fact that compositions lacking a score rarely win competitions of this caliber, he shrugged and said, "Yeah, I feel like I cheated." His snappy answer made me wonder if stand-up comedy was some kind of plan-B for him to fall back on in case the music thing doesn't pan out. Fat chance. Just take a listen to an excerpt from his winning composition here.
ASCAP Foundation Morton Gould Young Composer Award Winners:


Honorable Mention: Eric William Barnum, Michael Brown, Sebastian Chang, Shawn Crouch, Emily Goldman, Vera Ivanova, George Lam, Clint Needham, Yoomi Paick, Brandon Ridenour, Jonathan Sokol, and James Woodward.

Winners range in age from 9 to 18:
Preben Antonsen, 14

Meade Bernard, 18

Eleanor Bragg, 9

Roy Femenella, 11

Michael Gilbertson, 18

Benjamin Goldsmith, 13

Peng-Peng Gong, 13

Jay Greenberg, 14

Gabrielle Haigh, 13

Sunbin Kim, 16

Thomas Reeves, 11

Vartan Christopher Simonian, 11

Conrad Tao, 11
Honorable Mention: Alice Hong, age 13 and Natasha Sinha, age 15.
Jury members: Eve Beglarian, Sebastian Currier, Charles Fussell, Marc Mellits, Alvin Singleton, Chris Theofanidis, and Randall Woolf.
May 25, 2006
Three days later over at the Walter Reade Theatre in the Lincoln Center complex, ASCAP hosted their annual Concert Music Awards. Most of the 40 ASCAP Foundation Morton Gould Young Composer Award recipients (selected from 565 submissions) were present to share the stage with the 2006 Concert Music Honorees Philip Glass, James DePreist, Matt Haimovitz, and Alarm Will Sound. Before the ceremony proper, music industry types were treated to over an hour of excerpts from the winning compositions. The opportunity not only provided a glimpse into each individual composer's talent, but also a sense of the overall excellence represented by the trophy pool. Some standouts include Paul Swartzel's Combine for two pianos with effects pedals, Spencer Topel's The Glass Roof, and 11-year old Roy Femenella's Mysterious Nights for ukulele and cello.
As much a mainstay as Billy Crystal on Oscar night, Peter Schickele hosted the awards ceremony launching the evening with the rallying cry, "Classical music is alive and kicking." Then he paused inquisitively, "Kicking what? Three letters. Starts with A." Like a Bruckner symphony, the ceremony was an expanse of details, including live performances. And, in addition, as they accepted their awards, every one of the young composers' bios from the program book were recited by Melinda Wagner, Jennifer Higdon (two celebrated past winners of this award), or Alvin Singleton (who served as one of this year's judges along with Eve Beglarian, Sebastian Currier, Charles Fussell, Marc Mellits, Chris Theofanidis, and Randall Woolf). One ASCAP staffer told me that this approach is "all about honoring the composer." Indeed, he is right.
At intermission, I hung out with Jenny Olivia Johnson, who won for her short opera Leaving Santa Monica. Soon we were joined by the composer of Night Mixes for chamber ensemble, Robert Honstein. Eventually the two began speaking in a Will & Grace-like shorthand, something they picked up during a stint together at the American Conservatory in Fontainebleau. I realized that for many of the award recipients, this event was almost a family reunion of sorts. More than a handful of this year's winners have multiple ASCAP Foundation Morton Gould Young Composer awards under their belts; some as many as five.
As the ceremony hit the homestretch, Vice President and Director of Concert Music Frances Richard helped the presentations move along swiftly, then the crowd gathered for a reception upstairs in the Kaplan Penthouse. In the end, the award-winning composers shared prizes totaling $40,000 in two age groups: 9-18 and 19-30. A new scholarship, the Charlotte V. Bergen Award, was given to 14-year-old Jay Greenberg, and 26-year-old Brian Herrington took home the Leo Kaplan Award for the score judged most outstanding for his 25-minute Symphonia. In all, 565 submissions were received. As the sun began to set, the crowd gathered to toast the winners were treated to stunning views of the Hudson River and the city skyline—a perfect setting to reflect on the bright future of modern composition.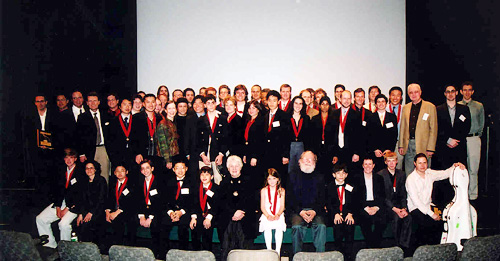 Group shot of the the winners and honorees at the ASCAP Concert Music Awards