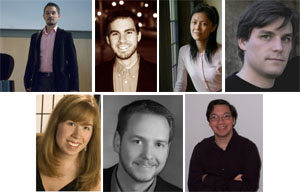 The 2009 Minnesota Orchestra Composer Institute Participants. First row L-R: Fernando Buide, Geoff Knorr, Angel Lam, Spencer Topel; Second row L-R: Kathryn Salfelder, Carl Schimmel, Roger Zare
Photos courtesy Minnesota Orchestra
Seven up-and-coming composers have been selected from an applicant pool of 143 for the 2009 Minnesota Orchestra Composer Institute. From November 17-22, the participants will experience six days of seminars, tutoring sessions, and rehearsals, culminating in a public concert of their works led by Music Director Osmo Vänksä on November 21.
The seven composers and their respective works are as follows:
Fernando Buide, Antiphonies
Geoff Knorr, Shadows of the Infinite
Angel Lam, In Search of Seasons
Kathryn Salfelder, Dessin No. 1
Carl Schimmel, Woolgatherer's Chapbook
Spencer Topel, Incendio
Roger Zare, Aerodynamics
"This program is really like having a very good magnifying glass on your piece," says Geoff Knorr. "Not only are professional symphony musicians putting time and energy into performing the parts at an extremely high caliber, plus a whole team of composers will be standing by, offering feedback as well."
For Spencer Topel, the Composer Institute enables him to return to the orchestral medium after working more with electronics in recent years. "I think they have a very noble aspiration to rehearse a work to its fullest," says Topel, "to present it in the best possible light, and I think for that reason, it's a great thing."
The Institute Director Aaron Jay Kernis's personal experience with the New York Philharmonic as a young professional composer informs the program in its goal to expose rising composers to working with orchestras. "Much of the impetus for the Institute come from looking back at all the things I learned once I was out of school," says Kernis. "Practical training was completely absent in school programs at that time, and the sense of running one's own life and business as a composer seemed largely the by-product of fate and learning through mistakes."
The Minnesota Orchestra Composer Institute is co-presented with the American Composers Forum in conjunction with the American Music Center.