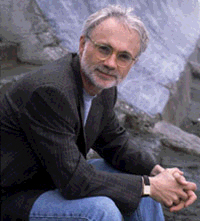 Adams wins another
John Adams can now officially add the Pulitzer Prize for Music to his impressive résumé that already includes a Grammy, a Grawemeyer, membership in the American Academy of Arts and Letters, and numerous commissions from major orchestras and ensembles across the globe. Over the past decade, Adams has been by far the most frequently performed living composer by American orchestras. This past season alone, the Bay Area composer has been honored with a 10-concert festival at Lincoln Center, was elected to the Composer Chair at Carnegie Hall, had a new opera commissioned by San Francisco Opera, and saw the world premiere of his New York Philharmonic-commissioned work to commemorate the events of September 11th. It was this last piece, On the Transmigration of Souls, that earned Adams the Pulitzer Prize in Music that was announced on Monday.
While many people expressed shock that Adams, who has had difficulty shaking his minimalist sobriquet, would be honored with this generally conservative award, in the context of the Pulitzer journalism awards, honoring a piece that commemorated September 11th does not seem surprising at all. Last year 8 of the 14 journalistic prizes went to coverage of the September 11th attacks and at the prize reception held last may, former Pulitzer Board President John Carroll alluded to the fact that for literature, music, and drama, it may take longer for the effects of the attacks to gestate.
Pulitzer Winners from the Last Decade
2003: On the Transmigration of Souls John Adams
2002: Ice Field Henry Brant
2001: Symphony No. 2 for String Orchestra John Corigliano
2000: Life is a Dream, opera in three acts: Act II, Concert Version Lewis Spratlan
1999: Concerto for Flute, Strings, and Percussion Melinda Wagner
1998: String Quartet No. 2, Musica Instrumentalis Aaron Jay Kernis
1997: Blood on the Fields (Oratorio) Wynton Marsalis
1996: Lilacs for soprano and orchestra George Walker
1995: Stringmusic Morton Gould
1994: Of Reminiscences and Reflections Gunther Schuller
1993: Trombone Concerto Christopher Rouse
While political events have always figured prominently as a source of inspiration for artistic works, music that is noticeably referential to tangible or controversial events, such as George Crumb's Black Angels, which was in part a response to the U.S. military action in Vietnam, has often been overlooked by the Pulitzer jury and board in favor of more generically titled works of absolute music. But this year, in addition to the winning piece, the other two nominated finalists—Paul Schoenfield's Camp Songs and Steve Reich's Three Tales—were also obviously connected to pivotal world events, past and present. Camp Songs, commissioned by Music of Remembrance (a nonprofit organization dedicated to remembering Holocaust musicians through their art), sets five poems written in the Nazi concentration camps. Three Tales, as its name suggests, treats three different major events in history: the crash of the Hindenberg, the nuclear tests at Bikini Island, and Dolly, the first cloned sheep.
As America continues to sort out its feelings about terrorism, war, and peace, it may be no coincidence that the Pulitzer, given officially to a "distinguished musical composition of significant dimension by an American," was awarded to a piece so intimately connected with the current political and emotional atmosphere in America. This shift in appreciation demonstrated by the Pulitzer jury and board may not indicate a future trend, but it certainly validates all of the predictions made by journalists and musicians following September 11th, that composers would view the significance of their work differently. Certainly the jury, composers John Harbison, Joseph Schwantner, David Baker, and Stephen Hartke, plus Newsday critic Justin Davidson, chose three poignant, relevant works as finalists and the board, who selects the winner from the pieces nominated by the jury, found a winner, like many other organizations have, in Adams.
Plans to record the work are in process at Nonesuch, although the final details have not yet been worked out yet. Certainly, Adams's relationship with Nonesuch has been a fruitful one, as Nonesuch President Robert Hurwitz attests to. "One of the most joyous days of my professional life was when John agreed to sign with Nonesuch. He has been member of the Nonesuch family for almost 20 years, and to witness both his continued and astonishing evolution as a composer and his well-earned acceptance into the world's musical culture has been deeply moving to all of us at the company. And it is not only my enthusiasm that has driven the relationship: my love and respect for John is something that is shared by all of my colleagues."