The idea of space is like fuel to a dancer, the Martha Graham star Pearl Lang once observed. And Aaron Copland gave sound to space.
Copland's first score for dance was created for Hear Ye! Hear Ye!, a 1934 ballet by Ruth Page, who made a point of commissioning new music and had admired Copland's Music for the Theater. Hear Ye! told a lurid story about a nightclub killing and Copland soon dismissed his score as minor. But the experience whetted his appetite for composing for dance.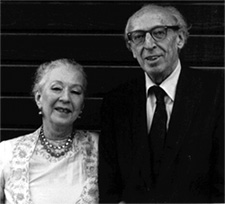 Aaron Copland and Agnes DeMille in Banff, 1976
Photo by Ron Adlington
The next three commissions were for works that soon became American classics. There was Eugene Loring's Billy the Kid in 1938, followed by Agnes de Mille's Rodeo in 1942, and Graham's Appalachian Spring in 1944, for which Copland won the Pulitzer Prize. Copland created one last dance score in 1959 for Jerome Robbins, who did not use it. But Robbins and such major ballet and modern-dance choreographers as Graham, Antony Tudor, Eliot Feld, José Limón, and Doris Humphrey set dances to published Copland scores. Humphrey's luminous Day on Earth, set to Copland's Piano Sonata, is another great classic of American dance.
Much sought after by choreographers, Copland turned down many more invitations than he accepted. For one thing, his natural musical curiosity and sense that music was "for use"made him take composing for dance seriously. His training with Nadia Boulanger in France occurred in the early 1920s when ballet composing was in vogue in Europe after Serge Diaghilev's fashionable collaborations with Stravinsky, Debussy, and others. And Copland returned to New York to an unjingoistic "affirm American"movement in the arts.
"A lovely, lovely gentleman,"in the words of Frederic Franklin, a dancer in the original Rodeo, Copland seemed to understand instinctively how dancers moved and choreographers made dances. He was the slightly detached and amused still center of the choreographic storms that whirled around him, storms stirred by the terrier scrappiness of de Mille and by Graham's controlled, cool passion for her work.
Copland at first turned down de Mille's request for a score for Rodeo, the story of a lovelorn Western tomboy who eventually gets her man. It sounded like a sequel to Billy the Kid, which was based on the legend of the outlaw William Bonney. Copland was silent as de Mille came to the end of the story in their first meeting. Then he began to laugh. "I've already done one of those,"he told de Mille. "Why don't you write a script about Ellis Island?"he asked, infuriating her. But he agreed at last, and within days received de Mille's precise, moment-by-moment scenario, which Copland would later insist she stick to.
The result was a wildly popular work that pulled the Ballet Russe de Monte Carlo, for whom it was made, out of a financial slump. Its bronco bucks and hoedown skips drove the company's Russian dancers to mutiny. "The only people left on the floor were James Starbuck and myself," Franklin, who played the handsome Champion Roper, recalls of the first rehearsal. But there were 22 cheering, whistling curtain calls at the opening, with Copland stepping forward for a bow that the music critic Irving Kolodin described as "a mixture of a lope and a curtsey that seemed also to have been choreographed by Miss de Mille."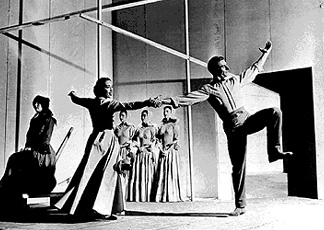 Martha Graham and Erich Hawkins in the premiere of Appalachian Spring at the LOC's Coolidge Auditorium in 1944
Copland summarized the American spirit in his scores for the frothy Rodeo, the stark, dark Billy the Kid, and the glistening Appalachian Spring. Each character in Appalachian Spring has individual musical themes which for Katherine Crockett, a young Graham principal dancer, go well beyond just establishing character. "It starts very quietly and there's this feeling, with these lone kind of horns, of dawn and the quietness as the day begins. The beginning of spring, a sense of hope, this newness. But it's very quiet. And as each person enters there's a piano note that drives the walk—bom, bom—as you come in."The music for the serene Pioneer Woman, a role Crockett dances, suggests "swooping hills, this sense of grandeur, this liquid quality, a suspended rolling feeling." A hush surrounds the music for the frantic, sexually-repressed Preacher at one point, she says, "as if the shadow is coming, the storm is coming." The music builds. "He tightens his collar and tries to keep all of the emotion in check. But it builds and builds and then he goes crazy as the music goes crazy."
Copland recognized that music for dance must be simple, a quality Copland prized in general, in life and in art. Movement and gesture must be allowed to breathe, to elbow through the sound for room to maneuver. And Copland gave dance that freedom. "I rode on the music," Franklin says, exuberantly singing out a bit of the score. "You have to move. There's no other way."
From A Feat Beyond Certainty: A HyperHistory of American Composer-Choreographer Relationships
By Jennifer Dunning
© 2002 NewMusicBox