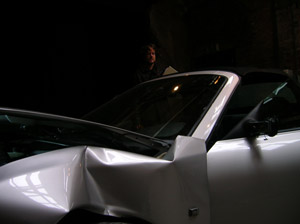 Beautifully smashed MG with my music playing at De Lakenhal with Xak Bjerken in the background.
I've just returned to balmy Rome after a week in Holland and Berlin where I had two performances of Stendhal Syndrome, my new trio for clarinet, piano, and violin, performed by the breathtakingly awesome Volans Trio.
I was born in Leiden, and it was such a pleasure to be back and experience lots of little things that I hadn't had since my childhood: stroopwafels, whole herring, Indonesian rijsttafel, reckless bike riding along canals.
Michelle, my girlfriend, came from New York City and met me at Schipol Airport. From there we checked into our hotel in central Amsterdam and went to hear the trio rehearse at the house where Xak, the pianist was staying—a gorgeous four-storied canal-sided place owned by Maria Bon, pianist and former member of the venerable Schonberg Ensemble. She now lives on a houseboat and rents out rooms in the house to artists and musicians that she likes.
The next morning we left for Leiden, a university town where my grandfather had taught English law. Maria Barnas, the Dutch artist and writer who organized the show at Leiden's De Lakenhal museum where my piece was to be played, included a beautifully crashed silver MG with the lights still on and the radio playing my piece, as though the driver had experienced a bout of Stendhal Syndrome.
In addition to a video of an interview with Graziella Magherini, the leading expert on Stendhal Syndrome, and a live performance of my work to the most hushed, concentrated audience of 300 that I've ever had, there was a "hearty winter meal" (Dutch style lasagna with some sort of hollandaise sauce), and a photo exhibit of close-up zooms of masterpieces, i.e. just a part of the ass cheeks of Botticelli's Madonna, magnified and enlarged. It was a lot of fun. I was touched by the thoughtful efforts that had gone into planning this event, including the beautiful signs reminding the milling, drink-clinking audience that my music was coming up and silence would be appreciated.
Next, we were off by train to Wannsee, a southwestern borough of Berlin, famous for its nudist beach, meeting place of the Nazis to plan the Final Solution, and home to the American Academy in Berlin—a truly swank place on a gorgeous lake. We had a big dinner of schnitzel and beer before hitting the hay. The next morning, the Volans Trio presented a concert of American music, including Ives, Currier, Hartke, my piece, and a new work, the birds are twittering, the birds are nervous, finished the night before by the Deutsche Bank Fellow at the Academy in Berlin, Sean Shepard. He writes with a very carefully controlled cloud of harmony, but there is a naturalness and immediacy to the music, surprising, yet sounding so self-assured that I felt that each note had to be the right one.
Sean showed us around Berlin and took us to an Italian restaurant called Paparazzi. The waiter spoke in Italian and was a caricature of an Italian waiter from a bad 1950s American movie about Italians. In fact, I think he was a German actor pretending to be an Italian waiter. So we all pretended to be Italians.
Michelle and I returned to Amsterdam for one more romantic evening where we got a chance to see a barge excavate a canal. Apparently the canals are on average three meters deep, and one meter is chucked bikes.
I am back in Rome now, feeling refreshed from the concerts. Hearing my music performed reminds me that I am a musician—a seemingly obvious idea, but one that seems to slip to the wayside when I do necessary, yet not very musical chores for days or weeks on end. Sending scores, applying for grants, and even putting black notes on a page sometime seems rather removed from music making. But when I get the very great luxury of hearing my music performed by extraordinary musicians, I remember why I decided to go into this line of work.