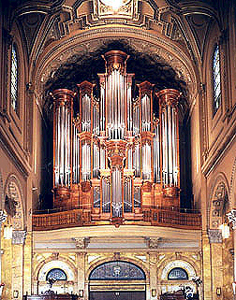 The pride of St. Ignatius-Loyola: Their organ
Seventy year-old sopranos reaching but never quite making the high notes, tenor sections, consisting of a handful of men and capable altos, a muddled brass quintet undermining "Joy to the World" with missed entrances, and miscast youth productions of Godspell and Jesus Christ Superstar are some of the vague memories I have of church music from my childhood. What I also remember is that despite some truly atrocious performances, music was the pride of the congregation and any new developments in the music program were an immediate source of satisfaction. In 1993, the American Composers Forum (ACF) initiated the Faith Partners program, which pairs up a composer with 3 different faith-based organizations in an 18-month long residency in order to take advantage of this very situation: a well-established community and audience that is enthusiastic about being a part of the creation of new liturgical repertoire.
The program started in Minnesota and has been going strong for the past decade with over 80 congregations having participated throughout the state. Many of the ACF's local chapters have also brought the program into their own areas including Atlanta, Boston, San Francisco, and most recently, New York City. Renita Kalhorn, director of the New York Chapter of the ACF, believes that it is the grassroots nature of the program, "bringing new music to people where they are" that has ultimately led to its success in Minnesota and beyond. She goes on to define the need for such a program, saying, "I think that there are few opportunities for composers to write sacred music these days, which is a very traditional role that they played."
When an ACF chapter elects to start a Faith Partners program in their community, local funds are raised and then faith-based institutions of all backgrounds are invited to apply. From the applicant pool, the chapter selects three houses of worship that they feel have similar resources and represented the greatest diversity possible to become a part of the participating consortia. The three congregations then collaborate in selecting and working with a composer during an eighteen-month residency. While the ACF chapter manages the application process, the decision is made solely through the consensus of the three participating institutions.
In January 2002, the New York chapter of the ACF with funding from the Wolfensohn Family Foundation launched the first Faith Partners residency in New York City. The consortia comprises three of New York's most prominent and influential congregations: St. Bartholomew's (Episcopal), St. Ignatius-Loyola (Roman Catholic), and Temple Emanu-El (Reform Judaism), all located in Manhattan. All three institutions support audition-only, professional choirs, a number of congregational choirs, world-class organs, and strong musical leadership—a far cry from the simple, volunteer style of music of my humble childhood!
The high-quality of performance and the visibility of the participating organizations attracted a record number of composers applicants. The music directors of St. Bartholomew's and St. Ignatius-Loyola (William Trafka and Kent Tritle respectively) and the head organist of Temple Emanu-El (Hunter Tillman) sifted through 43 applications, which included resumes and recordings but could not decide on only one composer. Instead, they agreed to invite 2 composers to be a part of the residency—Gerald Cohen, a Jewish cantor from Yonkers, and Charles Griffin, a former church musician and composer based on Long Island. The program was modified to accommodate two composers by reducing the number of compositions from the normal 6 to 4—one piece per congregation to serve particular liturgical needs and one piece that will travel between the three.
Both composers had extensive experience writing liturgical music in the past, but neither had had the opportunity to write for a faith separate from their own. They both expressed a certain excitement about their music being able to act as a vehicle of communication between the different faiths involved. Cohen explained that the program "seemed like a natural fit for me—continuing the things I've been doing but at the same time also opening new ground in that I hadn't written specifically for churches before. I was very excited to have this opportunity to have this ecumenical experience and have a chance to write for other faith organizations because I feel that music is a great way for different religions to speak to each other." At first, Griffin said he was a bit nervous about setting Hebrew texts for his piece Hashkivenu, a task that he had never tackled before. "I wasn't reticent but I was concerned about setting it accurately," he clarified. But he found that by working closely with members of the Temple Emanu-El staff he was able to get a handle on the pronunciation, accenting, and intonation of the text. While Griffin was studying Hebrew, Cohen was getting a first-rate education in composing for the organ. "It was my first real chance to write for organ and the organists and the music directors gave me a nice education on the organ as well in terms of bringing in what I was doing and they'd show me about how their wonderful instruments could make it sound as wonderful as possible." He humorously added, "I think I have been spoiled now having worked with these organs!"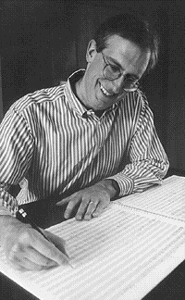 Gerald Cohen at work
Photo by Susan Woog Wagner
While interfaith understanding has always been one of the primary goals of the Faith Partners residencies, the need for communication and compassion between different religions has seemed particularly relevant in the aftermath of September 11th. Helping the congregation respond to the tragedy and heal was sited as a major concern when the residencies began in January 2002. Both composers and the consortia have been very open to incorporating material into these works that normally wouldn't find a place in the traditional services. For example, Cohen set the Hebrew text of Adon Olam for a cappella choir and initially intended it to be his traveling piece. When these plans fell through, he was elated that Kent Tritle, the music director at St. Ignatius-Loyola, asked him to use the work, which is based on one of the most important Jewish liturgical texts, as the piece for St. Ignatius. Cohen was both surprised and overjoyed by this decision and the presence of a work in Hebrew in a Catholic service points to the interconnectedness of these two faiths. The other three pieces that Cohen wrote as a part of this residency were gleaned from a translation of the Jewish Kabbalistic Text, the Zohar, Psalm 95, and Wordsworth's "Ode to Immortality."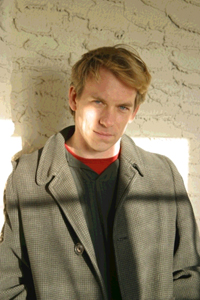 Charles Griffin
Photo by Scott Silver
Griffin's compositional process represented a reconciling of faiths in itself. Apart from acquainting himself with the intricacies of Hebrew, Griffin focused a great deal on combining different cultural influences into his works. His piece Out of Nothingness for choir with organ and percussion accompaniment was born out of a desire to acknowledge the Islamic faith. "Gerald and I both independently had the notion of looking at Rumi for a source, but I couldn't find anything that would solely be useful by itself." Lukewarm responses from the music directors about this idea led him to concentrate more generally on whirling dervish imagery. He eventually culled his own text from translations of the great Sufi poets, but he was struck by similarities that he found between Whirling Dervish imagery and the Ghost Dance of the Sioux. His process had also led him to consider incorporating elements of the famous Negro spiritual called "Ezekiel Saw Da Wheel," but canceled this idea after learning that the Book of Ezekiel in the Old Testament calls for the "smiting of Israel," is often quoted by anti-semitic figures.
While it is evident that cultural bridges have definitely been fortified as a result of this program, it is still too early to tell if another goal—the permanent addition of these works to the liturgical repertoire—will be attained. From his experiences writing for synagogues in the past, Cohen notes that, "A nice thing about writing for synagogues or for churches is that hopefully then the pieces have a wide life in a lot of different contexts and for use in the community." In the case of this residency, he presumes that the pieces, which were all written for a specific liturgical need, will be used again." The first pieces were premiered during services at St. Bartholomew's and St. Ignatius Loyola in November and were met with enthusiasm from the congregations. Kalhorn explains, "It really brings the creation of new music very close to them." And while outreach activities have been limited, a "meet-the-composer coffee break" at St. Ignatius allowed members of the congregation to interface with the composers adding what Kalhorn calls "human element to the whole program." She continues saying, "Ideally we'd love to have the composer coming into Sunday school classes and adult education classes adult education classes to speak with them."
And while the incorporation of the eight works being created as a part of this particular residency into the standard repertory of these institutions is a desirable goal, the composers and the ACF are most excited about this program to act as a pilot for other residencies in New York City. Griffin hopes that "the congregations will become aware of what this process is and be receptive to working with other composers in a similar situation, so that it can sort of take on its own life…I think it would be great if a residency like this could exist in every borough every year. It certainly seems like there should be enough interest in it to sustain such a notion." Kalhorn hopes to continue the program in New York next year (pending funding), housing it in more diverse institutions such as St. John's in Greenwich Village, an Anglican church with a large gay-lesbian membership, the Abyssinian Baptist Church in Harlem, and B'Nai Jeshurun on the Upper West Side.
Another focus for Kalhorn is to encourage institutions to continue to participate in commissioning composers after the residency is over. The Unity Church in St. Paul, MN, successfully continued the program after being a Faith Partner and has now developed a reputation in its community for fostering and encouraging new music and even has its own resident new music ensemble. In this case, the church did all of its own fundraising to continue commissioning, but Kalhorn recognizes that not all institutions have such resources and that a more practical way may be by promoting the creation of commissioning clubs. "I think there are people at these congregations who would be interested in doing that sort of thing. They're so huge—the church and the synagogue and that would be another way to bring them together, to work together, to create more sacred music."
The bulk of the premieres will happen between February 14 and February 23 and the Friday nights performance at Temple Emanu-El featuring a premiere by each composer will be simulcast on WQXR. See below for a complete listing of concerts.
CONCERTS:
Premieres will take place at the 11:00 a.m. services at St. Bartholomew's and St. Ignatius-Loyola, and the 5:15 p.m. service at Temple Emanu-El. Temple Emanuel services are also broadcast on WQXR (96.3 FM) and Web cast on their Web site.
FRIDAY, FEBRUARY 14
Temple Emanu-El (1 E 65th St.)
Composer: Gerald Cohen • Premiere: All of God's creations recite melody
Composer: Charles Griffin • Premiere: Hashkivenu

SUNDAY, FEBRUARY 16
St. Ignatius-Loyola
Composer: Gerald Cohen • Premiere: All of God's creations recite melody

SUNDAY, FEBRUARY 16
St. Bartholomew's
Composer: Charles Griffin • Premiere: Out of nothingness

FRIDAY, FEBRUARY 21
Temple Emanu-El
Composer: Gerald Cohen • Premiere: L'chu N'ran'na (Psalm 95-excerpt)
Composer: Charles Griffin • Premiere: Out of nothingness

SUNDAY, FEBRUARY 23
St. Ignatius-Loyola
Composer: Charles Griffin • Premiere: Out of nothingness

SUNDAY, FEBRUARY 23
St. Bartholomew's
Composer: Gerald Cohen • Premiere: All of God's creations recite melody