Dean Suzuki
Photo by Ryan Suzuki
Last month I offered a broad survey of sound sculptures, invented instruments, their creators, and role in modern music. In this column, I will take a closer look at a single work focusing on newly invented instruments: Paul Dresher's Sound Stage—an interdisciplinary music theater piece performed by Zeitgeist, the new music ensemble, on a stage comprised mainly of very large-scale instruments invented by the composer. Dresher (b. 1951) is a West Coast composer, based in Berkeley, California, whose work might be described as post-minimal. His work is informed by minimalism, but also embraces elements of world music, rock, jazz, improvisation, and post-Cageian experimentalism.
While Sound Stage has it roots in some of the composer's earliest musical explorations, it came into being directly as the result of a commission from Zeitgeist, the Minneapolis-based new music ensemble. The group, which has been together for 25 years though no founding members remain, has leaned towards minimalism in its repertoire—recent commissions and recordings include music by Harold Budd, Terry Riley, and Frederic Rzewski—though they have played and commissioned works by Stockhausen, Cage, Eric Stokes, Mark Applebaum, Eleanor Hovda, Mary Ellen Childs, and Martin Bresnick, among others. The music has always been, more or less, traditional concert music. In 1995, with a thought towards expanding their horizons, Zeitgeist approached Dresher, well known for his work in the theater, to create a large scale, evening-length work for them that would, in some way, have a theatrical component. Other than the theatrical element, the commission was wide open.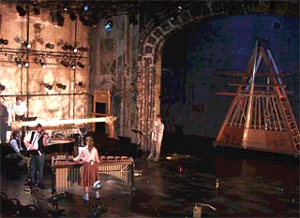 Dresher's Sound Stage
Photo by Andy Marino
At the outset, it was Dresher's goal to integrate into Sound Stage several aspects of his musical background—chamber music, invented instruments, music theater, and electronic music—into a single work. After working in the theater for many years, Dresher was well aware that musicians are often poor actors and thus the theatrical component needed to be strikingly visual. Dresher decided that his piece would use instruments that he would invent and that they needed to be very large in scale in order for the work to have the impact that he desired. In fact, the stage set would be composed entirely of the invented instruments, with the music combining these invented instruments and the traditional Western instruments played by the members of Zeitgeist.
Many familiar with his work are unaware that Dresher had invented and built instruments as a young man. While still in high school, Dresher created a number of acoustic instruments. He took woodshop while in high school to develop the skills needed to build his instruments. He began with plucked string, guitar-like instruments, being a guitarist himself. Among these was a 12-string instrument, based in part on the 12-string acoustic guitar, but with a different and rather unguitar-like shape. He later created a 6-string instrument, again modeled after the guitar, but that employed open tunings. As he had an interest in non-Western musics, Dresher made instruments with sympathetic strings and movable frets, inspired by the sitar.
In the late '60s he encountered Harry Partch's work and drawing inspiration from his Cloud Chamber Bowls, built two sets of glass instruments and made his first serious composition, Music for Two Glass Instruments, Electronics and Tape (1973), a work for six percussionists with live electronic processing (filtering) and a tape delay system borrowed from the work of Terry Riley. Curiously, this earliest work contained virtually all the elements that were to define Sound Stage: a combination of acoustic and electronic elements, invented instruments (and an approach to intonation), and (though he was completely unaware of it at the time), a theatrical element emerging directly from the music performance. From this point on, each of these elements developed independently, only to come together again many years later in Sound Stage.
In the mid and late '70s, Dresher worked closely with Lou Harrison and his partner Bill Colvig on the invention of instruments for the American Gamelan. In fact, the written portion of his 1979 master's thesis at UCSD, "The Design and Construction of An American Gamelan," was a complete set of construction plans with detailed diagrams for the construction of instruments that duplicated the instruments of a Central Javanese orchestra from readily available materials and tools. He went on to direct the construction of several complete sets of instruments in Berkeley, San Diego, and Seattle.
By 1979, Dresher's love of gadgetry, integrated performing systems as well as the practical need to have a portable solo performance vehicle for his compositions, led to the construction of an elaborate live recording/mixing multi-track tape delay system (created in collaboration with audio technician Paul Tydelski) which was related to Terry Riley's time-lag accumulator or Robert Fripp's Frippertronics system, but substantially more complex and sophisticated.
For a number of years, this electro-acoustic invention supplanted any purely acoustic inventions and was used both in concert and in his first music theater works, such as The Way of How. This work from 1981, created in collaboration with experimental theater artist George Coates and one of the first works that brought wide attention to Dresher's music, included plastic tubes (used to protect golf clubs) cut to different lengths and used as resonant percussion instruments.
For anyone who invents pitched instruments, either as an inspiration or simply as a matter of necessity, one has to make decisions about intonation. In building his glass instruments, Dresher found the seed of his own approach to this issue. Like Partch, Dresher employed commercially available industrial glass containers that often cracked when being cut. However, he discovered that these could be salvaged and modified with a notch that radically altered the pitch and timbre. Each of these salvaged glass instruments was unique, as each had peculiar pitch components, a sort of multiphonics, undefined pitch, and pitches sets whose members were unrelated to the harmonic series.
Indeed, the odd pitch collections in these glass instruments signaled the beginning of Dresher's notion of what he calls "distemperament"—wildly enharmonic concatenations of pitches that defy systemization into any tuning system but that we hear as both pitch and timbre. As the composer asserts, he appreciates and engages the ambiguity of "distemperament" which becomes more of an element of timbre rather than tuning, per se. As an example, he uses this approach in the sampled prepared piano and electronic percussion parts of "Cage Machine," the first movement of his Concerto for Violin and Electro-Acoustic Band, in a way that enhances and intensifies the already unorthodox timbres in the work. This idea informs the music of Sound Stage which uses some of the same samples of the prepared piano sounds found in the concerto, but programmed in a different way to complement different instrumentation of that work.
However, as a result of his studies with Lou Harrison and of various world musics, Dresher also developed a solid understanding of just intonation or systems based on the harmonic series. Going into the project, Dresher did not think that systematic tuning was going to be an important issue in Sound Stage, but the physics inherent in some of his new instruments led directly to highly precise just intonation and this became an integral part of the work. One of the inventions is the Quadrachord, whose fourteen feet long strings allow the performer to play the harmonic series with incredible accuracy up to the 22nd partial. Dresher wrote music integrating these pitches (of the overtone series) focusing on the range of 8th to 19th partials and particularly exploring the wildly non-equal tempered intervals of the 11th and 13thpartials. The violinist and clarinetist in Zeitgeist were asked to match those pitches, through modified placement of fingers for the former and the use of alternate fingerings and adjusted embouchure for the latter.
When building his very first instruments, which were often quite large, Dresher was not thinking of them as theatrical, though others noticed their dramatic presence. Later, after working in music theater, and especially his experiences collaborating with Coates, he recognized the importance of theatricality in his work, but invented instruments did not play a role in his compositions. In 1993, after meeting Ellen Fullman, whose Long String Instrument impressed him deeply, Dresher came back to an understanding of the inherent theatricality and potential of invented instruments. He had been well aware of Partch's notion of corporeality and the multi-valent impact of the instrument as sculpture, musical instrument, metaphor, theatrical object, symbol, and more, but Fullman's instrument proved to be an important catalyst for his return to instrument design and use.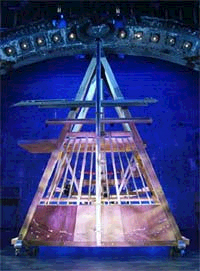 A-frame centerpiece
Photo by Andy Marino
The construction of the instruments of Sound Stage began in the summer of 1998. Dresher chose to collaborate with Daniel Schmidt, with whom he had worked in the 1970s on the design of American gamelan instruments. The visual and dramatic centerpiece of the Sound Stage is a 17 1/2 foot tall rolling A-frame construction whose every surface is sonically active and includes two 16 1/2 foot long pendulums, one that plucks strings on three giant harps, and one that strikes a variety of percussion instruments. The notion for working with pendulums came in spring of 1998, when Dresher saw Zeitgeist in performance for the first time. They were playing a composition with Terry Riley and it was at this performance that Dresher came up with the image of a giant pendulum and a question about its possible musical applications. He even made drawings of the pendulum on the concert's program notes. The instruments and the music began to take shape after the image of the pendulum, which became the central icon of the work.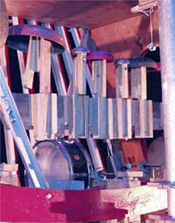 Interior detail
Photo by Andy Marino
The pendulum/A frame structure itself is a kind of stage, with two platforms on which members of Zeitgeist, along with Dresher, stand and play. Besides the harps and percussion instruments played by the pendulums, the instrument also contains the smaller (10 ft. long) of the two Quadrachords and what the inventers call "portal drums." These are three large plywood "sandwiches" that actually provide the essential rigidity for the whole structure, each of which contains many individual resonant chambers that are independently struck and sound like a cross between a conga and log drum.
Other instruments include two PVC pipe "saxophones" or "bass clarinets," the larger, free standing Quadrachord, and many long strings, up to 100 feet long, running from the stage and over the audience. These are attached to resonating boards rigged to surround the audience (these strings are rubbed longitudinally by hands and rosined gloves after the manner of Fullman's Long String instruments) and make their striking presence felt in a very theatrical way.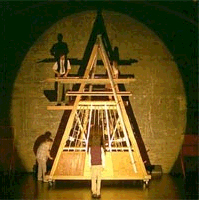 Performers at play
Photo by Andy Marino
Dresher is smart and honest enough to acknowledge that he has neither the inclination or artistry to develop the visual, theatrical, and movement components of his works and relies on gifted artist/collaborators in these areas. Beginning with just the kernel of an idea, a music theater piece using invented instruments, Dresher knew from the start that he needed a director/choreographer to give shape to the whole work. He found this and more in his long-time collaborator Rinde Eckert, who also contributed a spare but essential text that connected and humanized the various elements in the piece.
Initially, the work was comprised of music and images. As the piece evolved, in an almost after-the-fact manner, it became apparent that the piece was about the confluence of art, science, and math, the physics of sound and its role in art. The physics of sound became the starting point for Rinde Eckert's text, which came out of discussions with Dresher. Eckert created a text that helps make sense of the abstract sounds and their physical-acoustical structures. Using humor, poetic sensibilities, and engaging intelligence, Eckert has come up with a text that is stimulating, compelling, and educational without being didactic. While the text may be a bit over the heads of the very young, this is a work that reaches out to children without pandering and losing artistic integrity and merit. After the performance is completed, the audience is invited to become a part of the drama and have a hands-on encounter with the instruments, making their own sounds and experience the music directly. At the first performances, the audience's (both children and adults) enthusiasm for this exploration led directly to the creation of a separate educational program for schools that now tours in tandem with the full performance, allowing the work to reach a much wider audience.
In addition to playwright and director Rinde Eckert, instrument builder Daniel Schmidt, and visual and lighting designer Alex Nichols collaborated from the beginning and helped define all the visual aspects of the work. In the end, the collaborators have created a large-scale piece that incorporates music, performance art, sculpture, movement, acoustical physics, math, even education.
Sound Stage is a piece which promises to have a future as a performance piece and the catalyst for new vistas, new music (Dresher has already committed to an improvisational duo using the Quadrachord in collaboration with composer and instrument builder Mark Applebaum who will perform on his Mouseketier) and hopefully future large scale works expanding upon the basic idea of the stage as large-scale musical instrument.