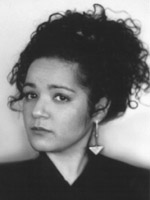 Gabriela Frank
photo by Sabina Frank
Gabriela Lena Frank is a D.M.A. candidate at the University of Michigan and has M.M. and B.M. degrees from Rice University. Her principal composition teachers have included William Albright, Leslie Bassett, William Bolcom, Evan Chambers, Michael Daugherty, Samuel Jones, Paul Cooper, and Ellsworth Milburn. She has studied at La Universidad de Santiago de Compostela, the Czech-American Summer Music Institute, and the Composers' Seminar at New York University. She has received commissions from the NEA, the International Alliance for Women in Music Diversity Commission, a fellowship at Banff Center for the Arts, and a MacDowell Colony residency. She has won the Theodore Presser Music Award and numerous awards from the University of Michigan, including the Rackham Pre-Doctoral Fellowship.
Frank will receive her doctorate in composition from Michigan this spring and will be recording a CD of Leslie Bassett's piano music over the summer. She will also be serving as guest composer at Musicorda. This summer festival and string program received NEA money to commission Frank to write two quartets for students. The commission specified that Ms. Frank would write quartets that incorporated South American folk and European classical music styles, a blend that characterizes much of her work. Each movement of the quartets, according to Ms. Frank, will represent a folk music style from a different South American country.
The fusion of South American and European styles is part of Ms. Frank's heritage. Her mother is Peruvian; her father, originally from New Rochelle, NY, was one of the first Peace Corps volunteers. Ms. Frank grew up in Berkeley, CA, and her first music was Peruvian music. "I wasn't aware how much I knew until I went back to start studying it." It was Ginastera's piano music, she explained, that encouraged her to go back and explore her musical roots. "He had the audacity to bring out these [ethnic] influences. When I heard what he was doing, I started to do it consciously also."
In the summer of 1998, Ms. Frank worked at the FundacÌon Vicente Emilio Sojo, an organization that works to preserve Venezuelan folk music. It was here that Ms. Frank encountered a great deal of the Latin American popular music that she has since incorporated into her repertoire as a pianist. She became particularly interested in the work of Ramon Delgado Palacios, described as a "Venezuelan Gottschalk," and a volume of whose work she helped to publish. "Many of these composers in South America, it is so hard to get [a copy] of their music because it is not published yet ¤ they don't have the resources yet down there that we have here." Ms. Frank also plays the music of Ernesto Lecuona, the "Cuban Gershwin." "It's virtuosic stuff," she commented.
Ms. Frank's doctoral thesis, entitled Elegia Andina (Andean Elegy), was commissioned by the Albany Symphony and performed in December 2000. She dedicated it to her older brother, who once spoke Spanish but has since forgotten the language. "He hasn't yet made the pilgrimage to South America," she explained. "I wrote it to encourage him to do that."
At the time this article was written, Gabriela Frank was waiting to find out if she had been awarded a Fulbright grant to study in the Peruvian village of Huanuco with the composer and ethnomusicologist Carlos Obregon. If Ms. Frank wins the Fulbright, she will use the Ives Fellowship money to help cover expenses during her time abroad; otherwise, she will use it to pay for additional composition lessons with her current teacher, Leslie Bassett.