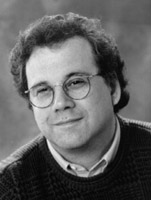 Louis Karchin
photo by William Tomlin
Lieberson Fellowship winner Louis S. Karchin is Professor of Music at New York University. He earned his Ph.D. and A.M. degrees from Harvard University, and his B.M. degree from the Eastman School of Music. He has been composer-in-residence at the Wellesley Composers Conference, and has received composition prizes from the Heckscher Foundation, the Aaron Copland Fund for Music, the Alice M. Ditson Fund, the Jerome Foundation, the National Opera Association, the American Composers Alliance, and the NEA, among others. He has been a fellow at the MacDowell and Yaddo colonies and has received fellowships from the New Jersey State Council for the Arts and the Berkshire Music Center. He is also a past recipient of the Walter Hinrichsen Award from the AAAL. His music is recorded by CRI and New World Records. C.F. Peters Corporation is his publisher.
Karchin is putting the finishing touches on a piece for saxophonist Taimur Sullivan and piano. It is a single-movement piece of about 15 minutes, a "virtuoso work" in keeping with what Karchin describes as Sullivan's "extraordinary" abilities. The piano and sax parts, according to the composer, are "continuously intertwined." Karchin is also starting work on an orchestra piece.
Karchin's percussion quartet was given its premiere at Merkin Hall on March 20, 2001, by members of the Washington Square Contemporary Players. The piece was commissioned by the Koussevitsky Foundation for the group Talujon. Another of his works, Deux PoËmes de MallarmÈ, will receive its first performance on April 6, 2001, at NYU, with singer Jane Cummins and pianist Margaret Kampmeier.
Karchin is hoping to feature these two recently premiered works, along with the new saxophone piece, on a new CD. "The money came at a good time," he confessed. The musicians involved in the initial performances have agreed to record the pieces, but he has not yet approached a label with the project idea.