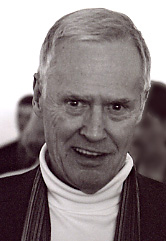 Gold Medalist Ned Rorem
Photo by Jeffrey Herman
[On May 21, 2003, at the annual Ceremonial of the American Academy of Arts and Letters, composer Ned Rorem was awarded the Academy's Gold Medal, its highest honor. The Gold Medal, awarded in recognition of an entire body of work, is given in alternate years to members in each of the AAAL's disciplines: literature, visual art, and music. The year, in addition to Rorem, the Gold Medal was awarded to poet W. S. Merwin. Below are the comments by AAAL member-composer David Del Tredici upon presenting Rorem with the award. -FJO]
Good afternoon, everyone.
And now, the Academy's triennial exercise in "shock and awe"—its celebration of the American composer to whom its Gold Medal is awarded in recognition of an entire body of work.
First presented in 1919 to Charles Loeffler, the Academy's highest recognition has over the years been given to many composers of happy memory, including (for example) Aaron Copland, Virgil Thomson, Samuel Barber, and Leonard Bernstein – all of them, of course, very distinguished. Today's honoree, however, has eclipsed each of them in at least two respects: First, will their longer names ever be quite so familiar to crossword-puzzle aficionados? And, would any of them have even contemplated having his scandalously personal journals published– and, so voluminously? Still, in 1976, it was not for Literature, but for Music, that our honoree was awarded the Pulitzer Prize.
Unlike his, none of my journals – thankfully – has ever been published! Truth be told, I'm more at home with poetic texts. And so I've written, as a personal tribute, an acrostic celebrating our honoree's name:
Newly-minted song abounds, as
Ever fresh his music sounds.
Dauntless writer, never shy, he
Rightly claims the public eye.
Over years his output grew so
Rich, so elegant, so new.
Empty praise would only bore 'im, so
May we laud with gold, Ned Rorem
But acrostic verse is too facile, Ned, and gives me too little opportunity, to catalogue your many accomplishments. Once hailed by Time magazine as "the world's best composer of art songs" (and you have produced hundreds of them), you have ranged far beyond that genre. For orchestra, you have composed three symphonies, four piano concertos and an array of other works – not to mention your chamber pieces, your six operas, your choral works of every description, your ballets and your music for the theatre. In all, truly, a "body of work" so formidable as to induce both shock and awe. (And, frankly, mystification: How on earth have you found time to journal, or to serve as this Academy's president?!)
Forty years ago, when your Paris Diary was published, shock and awe likewise greeted your self-identification as a gay man. Shock, of course, was then a commonplace reaction to such self-revelation, particularly among classical musicians. Awe, however, was the reaction of gay composers such as myself, for whom your bold step was positively liberating. A couple minutes ago, I invoked the names of Copland, Thomson, Barber and Bernstein. Their ghosts, surely, would be astonished to see that coming out needn't derail a musical career, as this pinnacle moment for you – this outpouring of our affection – amply attests.
Ned Rorem, it is my great pleasure, on behalf of the Academy, to award you its 2003 Gold Medal for distinguished achievement in Music.
David Del Tredici
© 2003 David Del Tredici; all rights reserved
[Ed. NOTE: An extensive conversation with David Del Tredici appears in the June 2003 issue of NewMusicBox, which will be available online from June 1, 2003. ]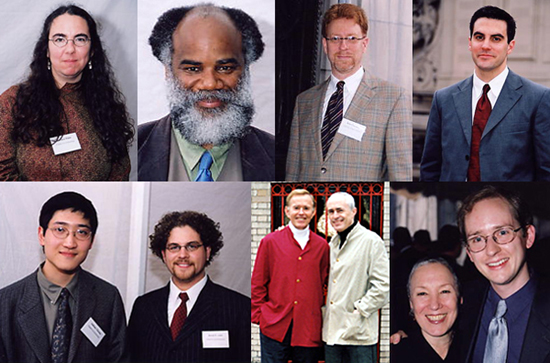 Composers gather at the 2003 AAAL Ceremonial (Clockwise from upper left): Charles Ives Fellowship winner Barbara White; Academy Award in Music winner Jeffrey Mumford; Academy Award in Music winner Eric Chasalow; Danks Award in Music winner Kevin Puts; Charles Ives Fellowship winner Daniel Kellogg (right) with Young Concert Artists' Vicki Marguiles (left); AAAL Member and Gold Medal presenter David Del Tredici with partner Ray Warman (right); Charles Ives Scholarship winners Anthony Cheung (left) and David T. Little (right)
All photos by Jeffrey Herman