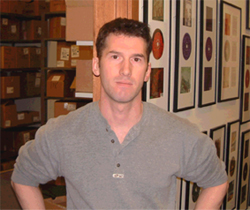 Philip Blackburn, innova director
Photo by Nick Trotter
Doom and gloom forecasts concerning the state of the classical recording industry are so pervasive they're cliché, but despite the pessimism the McKnight Foundation has seen it fit to award a $1 million grant to the American Composers Forum to endow its innova Recordings label and Recording Assistance Program. The move supports a recording option that may prove itself to be a viable alternative for new music where commercial operations are failing.
"The McKnight grant is a tremendous vote of confidence in innova and the artists we serve," says ACF Senior Program Director Philip Blackburn, who directs the label. "This endowment will enable us to serve more artists, increase our staff, and remain at the forefront of recording and distribution technologies."
The gift builds on the long-standing support the label has received from McKnight as well as a substantial contribution from the National Endowment for the Arts. The support, Blackburn says, "has elevated our work to a level we could not do otherwise. The design of the Recording Assistance Program (which is the process for making innova releases) allows us to take artistic risks that a for-profit label could never take without closing their doors a few weeks later. We could have released similar work without external funding (with the artists' support alone) but that could not have supported enough staff to make the whole marketing and distribution system work smoothly."
The additional money has allowed innova to hire a new staff member, Chris Strouth, former VP of Twin Tone Records Group. They are also working on distribution and exploring additional markets such as libraries, choreographers, and film/TV licensing.
Currently, innova typically releases 15 to 20 discs of new American music a year, ranging from new classical and jazz to world, electronic, and experimental music. Artists who publish with innova can receive a low-interest loan through the forum's Recording Assistance Program and they retain all net profit, full artistic control, and all rights to their work. The label ships to 12 international distributors (subject to the current volatility of the industry) and sales generally range from 500 to 3000 units, depending on newsworthiness of the music and the artist's live performance schedule.
"We will not take on projects that we cannot market better than the artists could do for themselves," Blackburn says, "and we intend to reach the point where we can guarantee that every project will at least break even for the artist."
Since sales figures can be pretty small, the success of a release is judged on different terms: mainly on its effectiveness as a marketing tool — when the artist can use the CD to gain wider recognition and opportunities; when reviews and airplay achieve a snowball effect that leads to increased sales and an improved press-kit that in turn leads to more performance opportunities.
Established in 1975 by the ACF, the innova catalogue now includes more than 75 releases, including Steve Heitzeg's Emmy-winning Death of the Dream and the ASCAP-Deems Taylor Award-winning Enclosures series on composer and instrument builder Harry Partch.
Operating under the umbrella of the ACF is an advantage when it comes to issues of visibility in the composing community and attracting funders. However, Blackburn acknowledges that "we also walk the tightrope between being a business and a service, accepting projects in order to help composers while being mindful of the need to have high-profile projects make a splash once in a while."
In general, he characterizes the innova artist as one with no obvious home in the commercial world — someone who doesn't fit comfortably into a niche. Pleased with the progress the label has made so far, Blackburn points out that new artists "hear about innova through word of mouth, testimonies from other artists, or from browsing the cyber shelves. We have done very little to solicit new artists; enough come knocking on our door for the moment."
Steve Heitzeg, who has released three discs on innova, says that the label "offers living composers an invaluable resource: the opportunity to have their music professionally recorded, packaged, and promoted by a label that is absolutely committed to composers and their voices. This represents a progressive vision at a time when more and more major labels are foregoing such a commitment to the culture."
"We believe we have a unique business model whereby the artist takes on the risks and rewards of their publication while we provide access and publicity independent of financial concern," Blackburn concludes. "Nothing else appears to be working in the industry right now, so at least this allows us to experiment and find new paths."