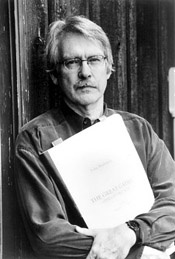 John Harbison
Photo by Katrin Talbot
Pulitzer Prize-winning composer John Harbison and new music philanthropists Joan and Irving Harris will be honored by the American Composers Orchestra at their 25th Anniversary Gala in New York on November 12, 2002.
Harbison will be recognized with the ACO's Distinguished Composer Award, acknowledging not only his own composing career but also his support of emerging composers. The ACO's Award for the Advancement of New American Music will also be presented that evening to Mr. and Mrs. Harris "for their exemplary longtime support of American culture and contemporary concert music."
Likely best known for his cantata The Flight into Egypt, which earned him a Pulitzer Prize, and the recent opera The Great Gatsby, his principal works also include four string quartets and three symphonies. Through his work as president of the Aaron Copland Fund for Music and other activities, he has also been a vocal supporter of fellow composers.
Harbison says he feels honored to be recognized by an organization that helped him get his start in the field. The ACO performed and recorded his Piano Concerto in 1977, one of his first orchestral performances. Receiving this award some 25 years later is "very nice. The ACO is obviously an organization that's become very important to new music and one which was a big help to me early in my career as it is to a lot of young composers."
These days, Harbison also devotes a portion of his time to helping his younger colleagues get started. It takes time away from his own work, but recalling how others helped him the investment is important. "I think it's partly that some of us remember that when we started out, it was actually harder to get going. There wasn't much interest from large organizations in what young composers where doing. There wasn't an ACO for one thing."
There were also few composers around at that time, Harbison remembers, who offered personal assistance to the next generation. One of the composers who did give generously was Aaron Copland and Harbison is following that example. "In the '60s and early '70s composers were just trying to somehow punch their way into that system. That's what I guess the main motivation is—that I remember a time when it really was hard to even imagine being performed by a symphony orchestra if you were a composer starting out."
In conjunction with the award, Harbison's Four Psalms will be given its New York premiere by the ACO on November 3. The work was commissioned to celebrate the fiftieth anniversary of the founding of the State of Israel by the Israeli Consulate of Chicago with funding provided by Joan and Irving Harris.
Four Psalms met with its share of controversy when it was premiered in 1999 by the Chicago Symphony Orchestra and Chorus and those issues have followed the piece. After visiting Israel, Harbison found that there were aspects of that experience—specifically pieces of conversation about the current political and living situation there—that he couldn't keep out of the work. "It was commissioned as a celebratory piece and ended up as a piece with a very different character, or at least a much more complicated character," he explains. It included not only four Psalms from the Bible, but also snippets of actual conversation such as, "Home, to this beautiful country / where car bombs wait for our children / at the market," and "I thought I was immune / to the Western Wall. / But when I found myself there, / I cried, / I stuffed my message, my prayer / into the crevice."
Though Harbison didn't set out to be provocative (in fact, never having been to Israel and not being Jewish, he initially turned the commission down), the piece ended up mirroring the controversial feelings alive in the region. "What I was really trying to do was reflect as much as possible that moment of that anniversary year—get a sense of history but also fix it in time and that moment in 1998. I was getting so many good pieces of advice not to do it from people I really respected, but the experience of preparing for the piece was really so strong I really couldn't keep it out."
The Harrises were especially supportive of Harbison as he worked on the piece and negotiated with the commissioning committee. "They of course have been great supporters of new music for a long time and they were not only supportive of the commission itself, but Joan helped lobby for in the text having all different points of view. I needed some help on the inside with that.
"Ideally one would hope that most of this will pass into history. That's certainly the vision of the psalms that I chose."
Mr. and Mrs. Harris are noted across the field for their personal commitment to funding for the arts and their public advocacy for the value of the arts in society and the fight for funding for the arts in America. It is for that reason that they will also be recognized by the ACO with an Award for the Advancement of New American Music. Joan Harris was appointed in 1990 to the Presidents Commission on the National Endowment for the Arts. Irving Harris, a corporate leader and noted philanthropist, has supported a range of performing arts activities. Together, the Harris's have been supporters of new music in Chicago, in Aspen, and nationally—underwriting concert series, supporting composer commissions, and helping to build new concert halls.
For his part, Harbison may be recognized for his great career by the ACO in November but he certainly isn't taking that as a signal to pack up shop. He just finished work on a large requiem for the Boston Symphony and is starting a piece and a special relationship with the Seattle Symphony. Distressed about the rehearsal time most new work is given, he'd been working towards establishing a relationship with an orchestra that "would agree to begin the piece a couple weeks before and also devote an amount of rehearsal time reflecting the duration of the piece and it's been very difficult. I had very little success before Seattle." In preparation, he'll even get to familiarize himself with the players as a guest conductor before he sits down to write the piece. "I think all [composers] are really thinking about some way to change the [rehearsal] balance somehow and I think without contractual control it's very hard to do. So I'm very enthusiastic about the project because for me it's much more of a partnership towards trying to get a first performance that will represent both the piece and the orchestra."