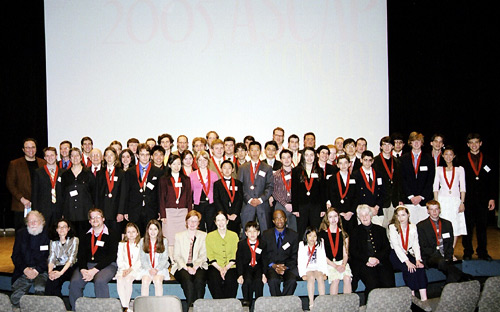 2005 ASCAP Concert Music Awards and Morton Gould Young Composer Award recipients, Photo courtesy ASCAP
ASCAP's sixth annual Concert Music Awards were presented at a ceremony and reception at the Walter Reade Theater in Lincoln Center in New York City on Thursday, May 26th. Peter Schickele hosted the invitation-only event, which acknowledged the achievements of the 2005 Concert Music Honorees.
Those recognized this year include composers Meredith Monk and George Perle, conductor Michael Morgan, the General Director of the Houston Grand Opera David Gockley, and Meet The Composer, along with the organization's president Heather Hitchens.
The recipients of the 2005 ASCAP Foundation Morton Gould Young Composer Award were also announced. Along with a free copy of Sibelius notation software, the winning composers share prizes totaling approximately $40,000, including the Leo Kaplan Award, which was given to Andrew Norman. This year's jury included composers Samuel Adler, Eve Beglarian, Martin Bresnick, Keith Fitch, Jennifer Higdon, Marc Mellits, and Christopher Theofanidis.
The list of 2005 Morton Gould Young Composer Awards recipients are listed with their current residence, and places of origin:
Athena Adamopoulos, Cambridge, MA (New York, NY)
Judah Adashi of Baltimore, MD (Boston, MA)
Timothy Andres of New Haven, CT (Palo Alto, CA)
Kit Armstrong of London, England (Anaheim, CA)
Mason Bates of Oakland, CA (Philadelphia, PA)
Kyle Blaha of New York, NY (Belleville, IL)
Sebastian Chang of Philadelphia, PA (Trabuco Canyon, CA)
Anthony Cheung of New York, NY (San Francisco, CA)
Lisa R. Coons of Princeton, NJ (Macon, MO)
Avner Dorman of New York, NY (Tel-Aviv, Israel)
Ryan Gallagher of New York, NY (Wooster, OH)
Stephen Gorbos of Ithaca, NY (Bethlehem, PA)
David Heetderks of New Haven, CT (Ann Arbor, MI)
Chia-Yu Hsu of Durham, NC (Panchiao, Taiwan)
Daniel Kellogg of New Haven, CT (Norwalk, CT)
Martin Kennedy of New York, NY (Wakefield, England)
Ching-Mei Lin of Rochester, NY (Taichung, Taiwan)
Marcus Maroney of Austin, TX (Wiesbaden, Germany)
Andrew Norman of Pasadena, CA (Grand Rapids, MI)
John Orfe of New Haven, CT (Chicago, IL)
Huang Ruo of New York, NY (Hainan Island, China)
Yevgeniy Sharlat of New Haven, CT (Moscow, Russia)
Ryan Streber of Huntington, NY (Rochester, NY)
Anne Strickland of McKinney, TX (Dallas, TX)
Christopher Trapani of New Orleans, LA
Matthew Van Brink of New York, NY (East Northport, NY)
Dan Visconti of Cleveland, OH (La Grange, IL)
Zhou Tian of Philadelphia, PA (Hangzhou, China)
The following composers received honorable mention:
Julia Scott Carey of Wellesley Hills, MA (Boston, MA)
Jacob Cooper of New Haven, CT (Hastings-on-Hudson, NY)
Ryan Francis of New York, NY (Portland, OR)
Judd Greenstein of Princeton, NJ (New York, NY)
Paul Hogan of New York, NY (Maryville, TN)
Angel Lam of Baltimore, MD (Hong Kong, China)
Anna Lindemann of Boulder, CO (Los Angeles, CA)
Theresa Martin of Tempe, AZ (Appleton, WI)
Robinson McClellan of New Haven, CT (Boulder, CO)
Karl Pestka of Ann Arbor, MI (East Lansing, MI)
Philip Rothman of New York, NY (Buffalo, NY)
Carl Schimmel of Oakland, CA (Wakefield, RI)
Sean Shepherd of Ithaca, NY (Reno, NV)
Daniel Tacke of Auburn, WA (Burbank, CA)
The youngest ASCAP Foundation composer winners range in age from 9 to 18 and are listed by state of residence:
Barret Anspach, age 18 (WA)
Preben Antonsen, age 13 (CA)
Eugene Birman, age 17 (CA)
Danielle Galler-Rabinowitz, age 13 (MA)
Matthew Cmiel, age 16 (CA)
Stephen Feigenbaum, age 16 (MA)
Roy Femenella, age 10 (NY)
Jay Greenberg, age 13 (NY)
Gabrielle Haigh, age 12 (OH)
Loren Loiacono, age 15 (NY)
Tudor Dominik Maican, age 16 (MD)
Thomas Reeves, age 9 (NY)
Daniel Schlosberg, age 17 (PA)
Natasha Sinha, age 14 (MA)
Conrad Tao, age 10 (NY)
Douglon Tse, age 14 (MA)
The following composers received honorable mention:
Meade Bernard, age 17 (MD)
Michael Brown, age 17 (NY)
Jade Conlee, age 12 (UT)
Ann Fontanella, age 16 (PA)
Arielle Galler-Rabinowitz, age 13 (MA)
Ashley Geo, age 11 (CA)
Jack Gravina, age 17 (NJ)
Alice Hong, age 12 (NC)
Kevin Kim, age 15 (NJ)
Christopher Lim, age 16 (NY)
Benjamin Pesetsky, age 16 (MA)
Armand Ranjbaran, age 15 (NY)
Shanlyn Tse, age 8 (MA)