The fifth annual ASCAP Concert Music Awards were presented at a ceremony and reception at the Walter Reade Theater in Lincoln Center in New York City on May 27, 2004. The event was hosted by ASCAP member composer, performer, and radio host Peter Schickele.
Those recognized this year include:
Howard Shore, recipient of consecutive Academy Awards for Best Original Score for The Lord of The Rings: The Two Towers and The Lord of the Rings: The Return of the King
Paul Moravec, recipient of the 2004 Pulitzer Prize for Music for Tempest Fantasy
Bang On A Can composer/founders Julia Wolfe, Michael Gordon and David Lang, who will receive the Victor Herbert Award for distinguished service to American Music
Zankel Hall at Carnegie, in celebration of the venue's inaugural season, and the artistic and programmatic vision of the late Robert Harth and Ara Guzelimian
Ethel, the composer/ string quartet members Ralph Farris, Dorothy Lawson, Todd Reynolds, and Mary Rowell in recognition of their brilliant and passionate championship of the music of our time
David Alan Miller, conductor and Music Director of the Albany Symphony for his dedicated and effective advocacy of American composers and their music
ASCAP Concert Music Awards Reception Photo Gallery
All photos by Jeffrey Herman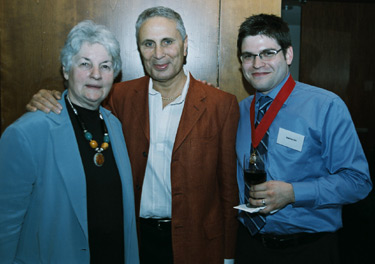 (l to r) ASCAP's Vice President & Director of Concert Music Fran Richard and composer John Corigliano congratulate 2004 Morton Gould Young Composer award recipient Daniel Ott.
ASCAP member composers Tania Leon and Kevin Beavers were in attendance.
| | |
| --- | --- |
| 2004 Morton Gould Young Composer award recipient (and soon the Information Services Coordinator at the American Music Center) Yotam Haber | 2004 Morton Gould Young Composer award recipient Paula Matthusen |
Also recognized during the Awards ceremony were the ASCAP Foundation Morton Gould Young Composer Award recipients. (This year marks the 40th anniversary of ASCAP's Young Composer Awards.) The winning composers share prizes of approximately $40,000.
The 2004 ASCAP composer/judges were Eve Beglarian, David Lang, Paul Lansky, Chris Theofanidis, Ezequiel Vinao, and Zhou Long.
The 2004 Morton Gould Young Composer recipients:
Randall Bauer of Princeton, NJ
Kyle Blaha of Rochester, NY
Michael Djupstrom of Ann Arbor, MI
Avner Dorman of New York, NY
Kenneth Froelich of Bloomington, IN
Judd Greenstein of New Haven, CT
Yotam Haber of New York, NY
Vincent Chee-Yung Ho of Los Angeles, CA
Takuma Itoh of Houston, TX
Vera Ivanova of Rochester, NY
Jonathan Keren of New York, NY
Caroline Mallonee of Baltimore, MD
Paula Matthusen of Brooklyn, NY
John Mayrose of Durham, NC
Sean McClowry of New York, NY
Nathan Michel of Princeton, NJ
Karola Obermueller of Cambridge, MA
Daniel Ott of New York, NY
Norbert Palej of New York, NY
Joshua Penman of Ann Arbor, MI
Huang Ruo of New York, NY
Wonhee Shin of Cincinnati, OH
David Stovall of New Haven, CT
Wang Xi of Ithaca, NY
Zhou Tian of Philadelphia, PA
The following composers received Honorable Mention:
John Arrigo-Nelson of East Setauket, NY
Nathan Brock of San Diego, CA
Mathew Fuerst of New York, NY
Daniel Highman of Bloomington, IN
Angel Lam of Baltimore, MD
Jacob Rundall of Urbana, IL
Katharine Penland Soper of Berkeley, CA
The youngest ASCAP Foundation composer winners range in age from 9 to 18. They are:
Athena Adamopoulos, age 17 (NY)
Kit Armstrong, age 11 (CA)
Peter Asimov, age 12 (NY)
Julia Scott Carey, age 17 (MA)
Sebastian Chang, age 15 (CA)
Roy Femenella, age 9 (NY)
Jay Greenberg, age 12 (CT)
Karen Hakobyan, age 18 (UT)
Alice Hong, age 11 (NC)
Geoff Knorr, age 18 (GA)
Christopher Lim, age 15 (NY)
Tudor Dominik Maican, age 15 (MD)
Max Schreier, age 18 (MA)
Natasha Sinha, age 13 (MA)
Conrad Tao, age 9 (NY)
The following composers received Honorable Mention:
Preben Antonsen, age 12 (CA)
Zachary Bernstein, age 16 (WA)
Sasha Clynes, age 13 (NY)
Jade Conlee, age 11 (UT)
William David Cooper, age 17 (MI)
Michael Foumai, age 16 (HI)
Farhad Hudiyev, age 18 (MN)
Kevin Kim, age 14 (NJ)