The ASCAP Foundation Awards and Scholarships, intended to support developing musical talent and recognize lifetime musical achievement, were awarded for the sixth year at a reception held in New York City in December. In her opening remarks, ASCAP President Marilyn Bergman noted that the awards were the demonstration of a "small idea now making a huge difference." Honors were presented to a wide variety of award, scholarship, fellowship, and residency recipients, from high school graduates embarking on college careers to more established composers deepening their skills in a particular area, in addition to three lifetime achievement awards.
Performances by the recipients during the evening's presentation showed the strength of the talent being supported by these awards. Joshua Hartman offered a jazz original at the keyboard. Elizabeth Ziman, a freshman at Berklee College of Music in Boston and the Leiber & Stoller Music Scholarship recipient, performed a soulful work for voice and piano. Natasha Sinha, a previous Morton Gould Young Composer Award winner, was joined by cellist Sebastian Baverstam for a performance of her latest composition that showed skill well beyond her eleven years. A small contingent of cast members took the stage to present scenes from Bat Boy, the off-Broadway hit created by Richard Rodgers New Horizon Award winner Laurence O'Keefe.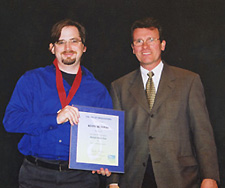 Kevin Beavers, honored with The ASCAP Foundation Rudolf Nissim Award for 2001.
Photo by Steve Bamberg
Three lifetime achievement awards were also presented during the course of the evening, including the first ever ASCAP Foundation Lifetime Achievement Award in the field of Rock & Roll. It was presented to the songwriter/producer Jerry Ragovoy, whose credits include "Time Is On My Side," "Piece of My Heart," "Pata Pata," "Stay with Me," and "Get It While You Can." Ragovoy accompanied R&B vocalist Howard Tate in a performance of "Get It While You Can," the Janis Joplin hit originally recorded by Tate in the 1960s and a new song born of recent collaboration.
The ASCAP Foundation Lifetime Achievement Award in the Field of Blues was presented to Kansas City music legend Jay McShann, a pianist, bandleader, recording star, and songwriter whose credits include "Confessin' the Blues," "Hootie's Blues," and "Jumpin' the Blues." McShann was unable to attend due to illness, but singer-guitarist Duke Robillard and pianist Bruce Katz performed McShann's best-known song, "Confessin' the Blues" in his honor.
The presentation of the ASCAP Foundation Richard Rodgers Award brought the evening to a close. It went to Broadway lyricist and composer Richard Adler for his lifetime achievements in American musical theater. Adler is the co-writer (with the late Jerry Ross) of the Broadway classics, Pajama Game and Damn Yankees. Taking the stage after the high-energy performance from the young Bat Boy cast, Adler played coy but charmed the audience singing a medley of his own hits, including "Hey There," "Whatever Lola Wants," "Steam Heat," and "Heart" (during which the audience was encouraged to sing along).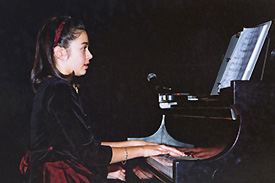 Featured performer, composer-pianist Natasha Sinha, 11, a recipient of a Morton Gould Young Composer Award.
Photo credit by Steve Bamberg
The complete list of this year's scholarship award-winners includes:
Louis Armstrong Scholarship (Queens College) –Pedro Andre Tavares
Leiber & Stoller Scholarship – Justin Bahrami & Elizabeth Ziman
Leonard Bernstein Fellowship at Tanglewood – David T. Little
Max Dreyfus Scholarship (NYU Tisch) – Matthew J. Boresi
Henry Mancini Institute Scholarships – Joshua Hartman & Nicolas Sorin
Michael Masser Scholarship – Melodie Nicholson
Dreyfus/Warner Chappell/CCNY Scholarship – Warren T. Loy
Ira Gershwin Award (LaGuardia HS) – Alexandra Conway & Samantha Brenner
Frederick Loewe Scholarship (NYU Tisch) – Christian Imboden
Metropolitan Opera Guild Composer-in-Residence – Stephen Weinstock
Rudolf Nissim Prize – Kevin Beavers
Richard Rodgers New Horizon Award – Laurence O' Keefe
ASCAP Foundation Lifetime Achievement Award (Blues) – Jay McShann
ASCAP Foundation Lifetime Achievement Award (Rock & Roll) – Jerry Ragovoy
ASCAP Foundation Richard Rodgers Award – Richard Adler
This year the ASCAP foundation is celebrating its 25th anniversary of support to programs of all musical genres that are national and regional in scope. Programs include awards, music education, scholarships, and talent development.