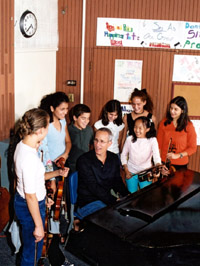 Photo by Melinda Wilson
The American Society of Composer, Authors and Publishers (ASCAP) has introduced the Junior ASCAP Members or J.A.M. Created to support and nurture the talents of high school music students, ASCAP J.A.M. hopes to educate them, as well, on the value of music and the importance of intellectual property rights.
Phil Crosland, ASCAP's Vice President of Marketing, explained the motivation for the creation of J.A.M. "We are watching a generation grow up with a total disregard for the ownership of music, a growing disregard for copyright and for intellectual property, [and instead sporting an attitude] that everything on the Internet should be free." Crosland feels that the debate over Napster and similar tools tend focus only on the artists, leaving "the creators of music, those who put pen or pencil to paper…totally left out of [the] conversation." ASCAP wants to use jam to "create a platform to share the [idea] that the value of music is only going to be perpetuated if there is fair compensation for those who create it."
ASCAP has partnered with MENC to launch the program, initially opening it up to MENC's Tri-M Music Honor Society members. The Tri-M Music Honor Society is an international music honor society for secondary school students (middle/junior high and high school) that motivates and recognizes musical achievement. Tri-M has about 15,000 members nationwide.
"[The program] supports both organizations and both missions," stated Michael Blakeslee, the Executive Director for Programs at MENC. "Both ASCAP and MENC are concerned with uses of copyright, [and] the legal and moral issues [surrounding] intellectual property." Blakeslee is pleased that MENC will be able to reach kids with the ASCAP's information on intellectual property.
As a component of the partnership, ASCAP and MENC will be creating several new programs to bring composers and music students together, such as student composer competitions, commissioning programs, master classes and more. Such projects may take the form of master classes at the MENC National Convention, and efforts by MENC to make the ASCAP Foundation/Morton Gould Young Composer Award more accessible to students not yet in college. Blakeslee hopes to use such projects to "make kids feel like they are part of the professional community," with the hope that they will assume the responsibilities that being part of that community entails. MENC is also working with ASCAP to design specific activities for Tri-M chapters. Currently, each Tri-M chapter creates its own curriculum, generally a mixture of music- and non-music related community service projects.
Hollywood composer James Newton Howard has agreed to be the J.A.M. Program's Honorary Chairman. Howard recently received ASCAP's Henry Mancini Award for lifetime achievement and has over 65 films to his credit including The Sixth Sense, Dinosaur, Runaway Bride, and Snow Falling on Cedars. Howard officially launched the program by presenting students in a Tri-M chapter in Los Angeles with their J.A.M. Member Cards. Howard and the students performed for each other and he led a question-and-answer session with them about what it is like to be a professional composer.
Through a new website, www.ascap.com/jam, J.A.M. members may read articles on music and music business topics such as songwriting, publishing, and copyrights. The J.A.M. site also features interviews with successful songwriters and composers. "We want to make the site entertaining [and provide] insider information in a way that is relevant to teenagers," Crosland commented. The ASCAP J.A.M. site will soon feature with Alf Clausen, who writes music for The Simpsons.
J.A.M. members also get discounts on membership and merchandise at TSR Wireless, the Museum of Television and Radio in New York, 360merch, Inc., J&R Music World/Computer World, Movie Club, and Blockbuster Videos.
Crosland wants to reach kids because he sees them as the "music influentials" who will "grow up to be ASCAP members or users of ASCAP." For the coming year, the program will be limited to Tri-M members. Blakeslee hopes that if students want to become ASCAP J.A.M. members attend a school where there is no Tri-M chapter, their teachers will use this as a motivation to start one. However, he stressed that they "don't want to limit anything," and that after this initial year "there are no particular restrictions [in place]."