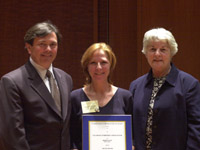 Gerard Schwartz and Frances Richard present an award to Sandra Madden, general manager of the Colora
The Awards for Adventurous Programming, offered annually for the past 44 years by the American Society of Composers, Authors and Publishers, have once again been awarded to American choruses and orchestras demonstrating an "exceptional commitment to contemporary composers." The awards to orchestras were presented in June 2001 at that the American Symphony Orchestra League's National Conference in Seattle and four choral ensembles were honored at the Chorus America Annual Conference in Toronto.
ASCAP's Vice President of Concert Music, Frances Richard presented the choral awards to the winning organizations, commending them for championing "music which expresses our own time." In her opening remarks, she commented: "The excellent performances, commissions and recordings of American vocal ensembles have enriched and replenished the great choral repertory. On behalf of the composers whose music you present, we thank you."
She also noted that for the first time a separate category for Children/Youth Choruses had been established to recognize of the dynamic growth and contribution of singing ensembles comprised of American children.
Richard was also on hand for the presentation ceremony to orchestras in Seattle, during which she noted that "just as we rebuild our concert halls and replenish the ranks of our orchestras, the members of ASCAP congratulate those who enrich the orchestral repertory and keep our great concert music tradition vibrant and alive."
Gerard Schwarz, Music Director of the Seattle Symphony Orchestra and a recognized champion of contemporary composers, presented the awards to the winning orchestras.
That afternoon the American Symphony Orchestra League also presented Adolph "Bud" Herseth with their annual Gold Baton award. The 53-year-member of the Chicago Symphony Orchestra is the first musician to receive the award. The ASCAP Foundation and Meet The Composer commissioned Seattle Symphony Resident Composer Samuel Jones to create a fanfare for brass and organ in honor of the occasion. The resulting work, Aurum Aurorae, opened and closed the awards ceremony.
Orchestras with Annual Operating Expenses more than $11.8 Million
First Place
Minnesota Orchestra, Eiji Oue, Music Director

Second Place
Seattle Symphony Orchestra, Gerard Schwarz, Music Director

Third Place
Chicago Symphony Orchestra, Daniel Barenboim, Music Director
Orchestras with Annual Operating Expenses $4.135-$11.8 Million
First Place
North Carolina Symphony, Gerhardt Zimmermann, Music Director

Second Place
Colorado Symphony Association, Marin Alsop, Music Director

Third Place
The Toledo Symphony, Andrew Massey, Music Director and Conductor
Orchestras with Annual Operating Expenses $1.4-$4.135 Million
First Place
Cleveland Chamber Symphony, Edwin London, Music Director

Second Place
American Composers Orchestra, Dennis Russell Davies, Music Director

Third Place
Memphis Symphony Orchestra, David Loebel, Music Director and Conductor
Orchestras with Annual Operating Expenses $325,000-$1.4 Million
First Place
Boston Modern Orchestra Project, Gil Rose, Artistic Director

Second Place
Berkeley Symphony Orchestra, Kent Nagano, Music Director and Conductor

Third Place
The Women's Philharmonic, Apo Hsu, Artistic Director and Conductor
Orchestras with Annual Operating Expenses $325,000 or less
First Place
Albany (GA) Symphony Orchestra, Claire Fox Hillard, Music Director

Second Place
Northwest Symphony Orchestra, Anthony Spain, Music Director and Conductor

Third Place
Southeastern Ohio Symphony Orchestra, Laura E. Schumann, Music Director and Conductor
Collegiate Orchestras
First Place
Manhattan School of Music Symphony, Philharmonia and Chamber Sinfonia, Zdenek Macal, Musical Advisor

Second Place
Peabody Symphony and Concert Orchestras, Hajime Teri Murai, Director of Orchestral Activities

Third Place
Brown University Orchestra, Paul Schuyler Phillips, Music Director
Youth Orchestras
First Place
Orange County High School of the Arts Chamber Orchestra, Christopher Russell, Music Director

Second Place
Etowah Youth Orchestras, Michael R. Gagliardo, Music Director and Conductor

Third Place
Vermont Youth Orchestra, Troy Peters, Music Director and Conductor
Festival Orchestras
First Place
Cabrillo Music Festival, Marin Alsop, Music Director and Principal Conductor
Choruses with budgets of $400,000 and higher
The Choral Arts Society of Washington, Norman Scribner, Music Director
Choruses with budgets of $90,001 – $399,999
The Esoterics, Eric Banks, Director (Seattle, Washington)
Choruses with budgets of $90,000 or less
Los Angeles Chamber Singers and Cappella, Peter Rutenberg, Music Director
Children/Youth Choruses
Glen Ellyn Children's Chorus, Emily Ellsworth, Artistic Director
Honorable Mention
The San Francisco Chamber Singers, Robert Geary, Artistic Director