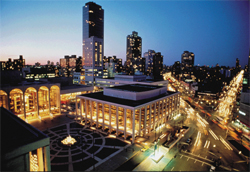 Lincoln Center
A nine-event tribute to composer John Adams will be a centerpiece of the 2002/03 Lincoln Center Great Performers' season. The 102-event calendar will encompass a total of 17 premieres and 15 debuts. In addition to the Adams festival, Great Performers highlights include a festival of the music of Hector Berlioz, the world-premiere of Trisha Brown's choreography for Schubert's Winterreise, and an exploration of the influence of J.S. Bach.
Lincoln Center Chairman Beverly Sills noted that since the series was established in 1966 it has "revolutionized the way we approach classical music programming." This season will be no different, she assured, citing an "exciting, fresh blend of themed concerts, approached with energy and intellect."
Following Sills' comments, Vice President for Programming Jane Moss took the podium to outline the season in detail. She stressed Great Performers' "commitment to the central role of the composer in our musical life and legacy, and our focus on the development of new and innovative contexts, settings, and formats for the presentation of music."
"John Adams: An American Master" will be a nine-event, multi-venue collaboration (March 20-May 17) spanning his orchestral, vocal, chamber, and operatic works. The project also introduces some first-time collaborations with the Brooklyn Academy of Music, the Juilliard Orchestra, and the New York City Ballet, demonstrating, Moss noted with a nod to recent press, that "Lincoln Center is capable of and embraces collaboration." The festival will also include symposiums, pre-concert talks, and possibly a screening of the UK film production of The Death of Klinghoffer, though that has yet to be confirmed.
Esa-Pekka Salonen will lead three performances, including the New York premiere of Adams' multi-media nativity oratorio El Niño, a Lincoln Center for the Performing Arts co-commission. The work will be presented at BAM. Salonen will conduct the Los Angeles Philharmonic and a cast including soprano Dawn Upshaw, mezzo-soprano Lorraine Hunt Lieberson, baritone Willard White, and the vocal ensemble Theatre of Voices.
Salonen and the L.A. Philharmonic will also perform Naïve and Sentimental Music during the festival. Adams himself will lead the Juilliard Orchestra and Emanuel Ax in a concert of Short Ride in a Fast Machine, Century Rolls, and Harmonielehre. He will also be on the podium for the world-premiere performance by the New York City Ballet of choreographer Peter Martins' Guide to Strange Places. The St. Lawrence String Quartet will present "John's Book of Alleged Dances" for String Quartet. The festival and Great Performances will conclude with Adams and the London Sinfonietta performing Chamber Symphony, Gnarly Buttons, with clarinetist Michael Collins, and Grand Pianola Music with Theatre of Voices.
Also of special note is the Art of the Fugue program, a co-presentation with the Chamber Music Society of Lincoln Center. For this project, the Brentano String Quartet has commissioned ten composers to write fugues in response to those penned by Bach. The commissioned composers include Bruce Adolphe, Chou Wen Chung, Sofia Gubaidulina, David Horne, Steve Mackey, Nicholas Maw, Shulamit Ran, Charles Wuorinen, and Eric Zivian.
El Niño and Art of the Fugue are both part of the "New Visions" section of Great Performers, intended to showcase innovation in classical music production. Great Performers opens with an all-Beethoven program featuring András Schiff and Orpheus Chamber Orchestra. Complete series information is available at lincolncenter.org.