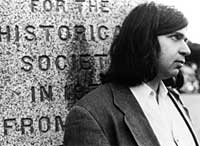 Frank J. Oteri
Photo by Melissa Richard
John Blacking, an ethnomusicologist who was one of the great musical thinkers of the 20th century, provoked the musical establishment with his book-long entreaties How Musical is Man and A Common Sense View of All Music, in which he posited that music is a fundamentally human phenomenon, everyone is capable of making music, and finally that all the world's music belongs to every one. His earliest book-length study, however, was his pioneering study, Venda Children's Songs, in which he proved that the musical structures and aesthetics of the music of the Venda people of South Africa were already fully formed in the music being created by their children.
Which begs some questions… How early can musical ability develop? How can musical ability transform into musical creativity and compositional talent? How old do you have to be before you can write a great piece of music?
One of the over-told stories of music history is how Mozart was writing symphonies at the age of eight. But over 200 years and an ocean separate us from the cultural milieu in which Mozart lived. Are children like Mozart walking amongst us today in New York City? In Ann Arbor? In Mobile, Alabama?
I spent a fascinating afternoon with Boston-area composer Natasha Sinha who was in New York to receive an ASCAP Morton Gould Award for the second year in a row. Natasha writes short aphoristic chamber music inspired by the landscape and the change of seasons. Natasha is 10 years old. Her views about music and the world around us are a refreshing change of pace.
To counterbalance our lengthy conversation, D.C. Culbertson provides us a HyperHistory ferreting out the connections between the age of America's composers and the music they are writing. She looked at composers ranging from other ASCAP and BMI Young Composer Award winners to Leo Ornstein, America's oldest living composer who is now 108! We asked Andrew Imbrie, Steven Mackey, Barbara Kolb, Olly Wilson and Lori Dobbins to remember the first time they thought of themselves as composers and to describe the earliest piece of their music that they still acknowledge. And we ask you to think about the impact that early recognition has on composers and other musicians in our society.
Our News and Views section this month reflects the vast generational spread of composers in this country. In addition to our reports on the winners of the 2001 BMI Young Composer Awards, Downbeat's awards for the best collegiate jazz musicians, and the introduction of a jazz studies program at the Juilliard School, which we resoundingly applaud, we also have news about five new Meet The Composer residencies, a 10 year plan of San Francisco Symphony commissions for John Adams, and the Jazz Journalists Association Awards which honored 63-year-old composer Andrew Hill and posthumously honored the great John Lewis who died earlier this year soon after putting out one of the greatest albums of his career and just weeks shy of his 81st birthday. The 41 new CD recordings that have come our way this month also attest that interesting music is being made by people of all ages in this country, from 17-year-old jazz piano prodigy Aaron Parks to some exciting unearthed early compositions by Pauline Oliveros who is now over 70 years young!
Finally, there are some important staff changes at NewMusicBox. With this month's issue, we introduce Molly Sheridan as our new Associate Editor and Amanda MacBlane as our new Production Coordinator. Molly previously served as a Web master for the American Symphony Orchestra League and an Associate Editor for their fantastic Symphony Magazine. Mandy comes from the equally exciting Chamber Music Magazine. Jenny Undercofler, my previous partner-in-crime has gone on to pursue her piano career full time and is already the house pianist for the Spoleto Festival in Italy. She will be greatly missed, but we guarantee that NewMusicBox will continue to grow!