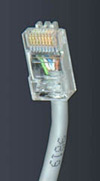 Need answers? Ask the Internet
Well, ok, not everything we need to know is available via that nifty chord in the wall, but this morning my blog and ArtsJournal.com reading made me wonder. To start, I was led to this Cassandra of a statement on America's love affair with the strip mall, which got me thinking about my old hometown in Ohio and the general Wal-Mart-ing and Clear Channel-ing of American culture that accompanies such commercial changes in a city or town. What can we, the new music community, do to stop the beast? I, for one, don't want to play distressed damsel and wait in the tower—though, as a writer, it will also be a sharp uphill trudge, as the outlets that have traditionally made the case for alternative art and politics are deep into similar battles of their own.
When it comes to orchestras, Mike Greenberg in San Antonio suggests that what we do, and the importance of why we do it, is so self-evident to us that we have a hard time making a case for it to the 99 percent of the country standing outside the concert hall. These folks aren't even occasionally glancing in through the window. Greg Sandow offers a few pointers for those who want to try and do a better job of pushing the field in a new direction.
Getting attention, if you haven't had drastic plastic surgery or done something stupid on tape, is hard in America. There have been lots of gimmicks suggested in our own and in other fields to help overcome this predicament. Some of us have tried things like this, and we might try something like this, but if getting people in the door is our aim, we probably want to think carefully before trying this in order to balance the books.
Clearly, some creativity is needed, and quickly. Sure, we're a minority up against stereotypes, so maybe we need to gather a group of composers and performers and start cultural dialogue on par with this Swedish library. Who better to make the case than us? There's no time to waste, unless you're perfectly comfortable leaving your neighbors alone in their houses with nothing but endless recasts of Law & Order and CSI lighting their faces.