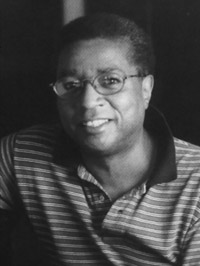 Alvin Singleton
photo by Joanna Eldredge Morrissey
Composer Alvin Singleton has recently returned from a residency at the Civitella Ranieri Center in Umbertide, Italy, awarded by the Civitella Ranieri Foundation. The purpose of the Fellowship is to provide gifted working artists with a significant period of uninterrupted time to concentrate on their work. Singleton was in residence for five weeks.
While in residence at Civitella, Singleton completed the composition of a trio for violin, clarinet and piano, revised a bass clarinet solo work and began research on a chamber orchestra piece. Singleton commented in an email that the benefits of the fellowship included "long periods of uninterrupted silence in a nice studio with natural light, and the genius of its location." He went on to explain that "working in a totally new cultural and physical environment forces the artist/person to re-examine, by comparison, basic assumptions and truths of everyday life, thus influencing the outcome of the artistic product in certain unforeseeable and unique ways."
Born in Brooklyn, New York on December 28, 1940, Alvin Singleton attended both New York University and Yale, and he studied as a Fulbright Scholar with Goffredo Petrassi at the Accademia Nationale di Santa Cecilia in Rome. Singleton has served as Composer-in- Residence with the Atlanta and Detroit Symphony Orchestras, and at Spelman College in Atlanta.
Singleton has been awarded the Kranischsteiner Musikpreis by the City of Darmstadt, Germany, twice the Musikprotokoll Kompositionpreis by the Austrian Radio, the Mayor's Fellowship in the Arts Award by the City of Atlanta, and a grant from the National Endowment for the Arts.
Singleton's compositions have been performed by most major American and European orchestras, and by the Kronos Quartet, the Chamber Music Society of Lincoln Center, the Nash Ensemble of London, the Asko Ensemble of Amsterdam, Ensemble des 20. Jahrhunderts of Vienna, the London Sinfonietta, Trio Basso of Cologne, and the Bremer Tanztheater.
Important international festivals have also programmed Singleton's music. They include Chamber Music Northwest in Portland, Tanglewood, Aspen, Bang On A Can, the National Black Arts Festival in Atlanta, Other Minds in San Francisco, the Vienna Summer Music Festival, Pro Musica Nova in Bremen, the Styrian Autumn Festival in Graz, the Brussels ISCM World Music Days, and IRCAM in Paris.