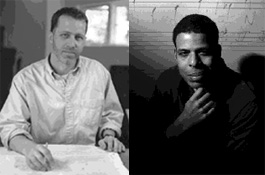 Winners Mark Kilstofte and David Sanford
Thirty-one American artists and scholars–including composers David Sanford and Mark Kilstofte–have been awarded fellowships from the American Academy in Rome. The winners of the 106th annual Rome Prize Competition were announced at a reception last night. The prize provides fellowships ranging from six months to two years allowing the recipients to live and work at the academy's scenic campus in Rome.
In the area of musical composition, Mark Kilstofte (Associate Professor of Music, Furman University, Greenville, SC) has been awarded the Frederic A. Juilliard/Walter Damrosch Rome Prize Fellowship and David Sanford (Assistant Professor of Music, Mount Holyoke College, Northampton, MA) has been awarded the Samuel Barber Rome Prize Fellowship. Alternates are James Matheson and Nicholas Brooke.
David Sanford, speaking from his car en route to the awards reception said he felt pretty lucky to have been selected. "I've known people with similar résumés to mine that have gotten it, but looking at some of the people [who've won] in recent years, it seemed fairly remote. I guess if I had to put odds on it, I would have thought I was fairly far back in the pack."
About the Rome Prize:
Rome Prizes were awarded in the fields of architecture, design, historic preservation and conservation, landscape architecture, literature, musical composition, visual arts and ancient studies, medieval studies, Renaissance and early modern studies, and modern Italian studies. This year's prizewinners range in age from 26 to 59 and come from sixteen states across the nation.
The Rome Prize is awarded through an annual, open competition that is juried by leading artists and scholars in the different disciplines. The jury for musical composition this year included John Harbison, Anthony Davis, Pierre Jalbert, Paul Lansky, and Anna Weesner.
More information is available on the academy's Web site at: www.aarome.org .
Kilstofte had to miss the Rome Prize ceremony due to a previously scheduled concert of five of his works, "so everything is kind of happening at once," he admits. Like Sanford, he was surprised to get the call inviting him to Rome. "I really didn't expect that I had much of a chance. Even getting to the final interview was more than I anticipated. I'm still elated and it's been a little while since we found out about it."
Having never been to Italy, Kilstofte says he's anticipating significant changes. "I haven't any idea how really, but both as a person and as a composer, I know it's going to change me and effect me in a positive way, and it's exciting to know that I'm not really clear about exactly what that change will be." After ten years working and composing at Furman University, at the very least he's guessing that Rome "will completely turn me up-side-down."
Kilstofte will be traveling over with his soon-to-be wife, the principal cellist with the Greenville Symphony. They plan to marry in June and are "all the more elated to spend our first year together in Rome. The timing couldn't be better."
This will also be Sanford's first trip to Rome. His wife, an architect, will accompany him. Specifically what effect his stay will have he finds it hard to say at this point. "I'm looking forward to a different aesthetic climate than the U.S. Their take on popular music is different, and their take on jazz and classical. I've always heard about there being a vibrant modern music scene there. I'm sure they have their cheese as well, but the old wisdom that you can see there, all that architecture. I'm looking forward to exploring."
Sanford is hoping to finally turn his attention to the "slew of ideas" he has for works for large jazz ensemble, a project he has wanted to undertake for years. "It's something I used to do when I was an undergraduate a lot, when I first started writing music back when I was a kid. I've built up a store of ideas. I've just never had the time to put them on paper and get a group to play them."
He suspects that Italy will be a good place to work on jazz, far away from the usual influences. "I think it will be good there because here it's easy to listen to Lincoln Center jazz and some great sort of modern big bands–George Russell, Maria Schneider. You can hear them and want to sound like that. It's a different sound I'm aiming at so I'm looking to really explore things over there. There's at least an hour, hour and a half of music I'd like to get finished with."
Kilstofte's main thrust will be to complete a symphony that he started a number of years ago. "I have one movement done, but I have what equates to three movements yet to go and I've been really itching to get back to that." Other commissions have kept him away from the project for the last few years and, he says, "I was worried that if I didn't get back to it soon I was going to lose the vision of the piece. This will give me the time and the opportunity to get that done with no problem." He also hopes to devote time to writing the libretto and much of the short score to a chamber opera that has also been in the planning stages for years. And where better to do that than in Italy.