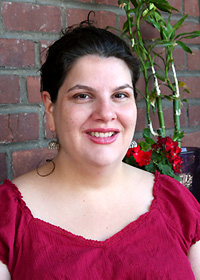 Anastasia Tsioulcas
Photo by Joshua Sherman
Nearly two years ago, two of music's most prominent publishing houses each issued four-volume anthologies of American arias: G. Schirmer released American Aria Anthology, while Boosey & Hawkes published American Arias: A Collection of Essential Contemporary Works. Quite coincidentally, the two series were released a month apart in the summer of 2004—and that fluke raises some interesting and timely questions. For starters, how is it that two major music publishers arrived at the same concept at more or less the same time?
In addition, while the existence of two such co-existing (and even competing) series might hearten advocates of 20th-century and new American music, has either series proved successful—not just in terms of giving rather intangible prominence or prestige to certain composers or works, but in terms of the rawer results of sales data? In short: What real impact have these anthologies made on the wider vocal music community?
The nearly simultaneous release of the two series provokes certain comparisons, as does the fact that Schirmer and Boosey now share the same distributor, Hal Leonard. "It's quite remarkable," muses Richard Walters, vice president of classical publications for Hal Leonard. (Walters also served as chief compiler for the Schirmer anthologies.) "Before these were published, we had very little in the way of aria compilations available in the market—and now we had two arrive at once! These titles prove that American opera is in itself now a viable body of literature."
But how was it that the two anthologies were published more or less concurrently? "G. Schirmer has been associated with Hal Leonard since 1986," Walters explains. "We help develop new Schirmer publications, editions, and collections. Boosey & Hawkes signed a similar deal with us in July 2004, which was the same month that Schirmer issued their anthologies of American arias. By the time Boosey had signed with Hal Leonard, Boosey already had their American arias series in production."
Although neither series was tied to a particular date or anniversary, Jenny Bilfield, the outgoing president of Boosey & Hawkes, observed that her company's publication date for their anthology timed itself nicely to two events. "Our series debuted at the NATS [National Association of Teachers of Singing] conference, and we received great response from it there. Also, our anthology was published at the same time that we launched a new opera page on our website and in our catalog, so the timing dovetailed nicely there as well."
20/20 Eyeballing the Anthologies
Boosey & Hawkes
List price = $29.95
Approx 20 arias per volume
Includes CD with piano accompaniments
20 Highlights…
John Adams: The Death of Klinghoffer (1991)
John Adams: Ceiling/Sky (1995)
John Adams: El Niño (2000)
John Adams: Nixon in China (1987)
Dominick Argento: The Boor (1957)
Dominick Argento: Postcard from Morocco (1971)
Jack Beeson: The Sweet Bye and Bye (1957)
Leonard Bernstein: A Quiet Place (1983)
Leonard Bernstein: Mass (1971)
Leonard Bernstein: Trouble in Tahiti (1951)
Aaron Copland: The Tender Land (1956)
Aaron Copland: The Second Hurricane (1936)
Jacob Druckman: Medea (1992)
Carlisle Floyd: Susannah (1954)
Carlisle Floyd: Cold Sassy Tree (2000)
Marvin David Levy: Mourning Becomes Electra (1967)
Douglas Moore: The Devil and Daniel Webster (1938)
Steven Mackey: Ravenshead (1997)
Ned Rorem: Bertha (1968)
Igor Stravinsky: The Rake's Progress (1951)
Schirmer
List price = $24.95
Approx 40 arias per volume
Does not include CD
20 highlights…
Mark Adamo: Little Women (1998)
Samuel Barber: Vanessa (1957)
Marc Blitzstein: Regina (1949)
William Bolcom: A View from the Bridge (1999)
John Corigliano: The Ghosts of Versailles (1991)
Anthony Davis: Malcolm X (1986)
John Harbison: The Great Gatsby (1999)
Bernard Herrmann: Wuthering Heights (1951)
Jerome Kern: Show Boat (1927)
Gian Carlo Menotti: The Saint of Bleecker Street (1954)
Douglas Moore: The Ballad of Baby Doe (1956)
Thea Musgrave: Simón BolÍvar (1992)
André Previn: A Streetcar Named Desire (1998)
Richard Rodgers: Carousel (1945)
Bright Sheng: Madame Mao (2003)
Stephen Sondheim: Sweeney Todd (1979)
Tan Dun: Tea (2002)
Virgil Thomson: Four Saints in Three Acts (1934)
Virgil Thomson: The Mother of Us All (1947)
Kurt Weill: Lost in the Stars (1949)
Susan Feder, Vice President of G. Schirmer and Associated Music Publishers, points out that her company's anthology includes arias from operas that have been premiered fairly recently. In fact, six works composed in the past decade are represented, including Bright Sheng's Madame Mao from 2003 which was literally hot off the presses when the anthologies were put together.
"What we really wanted to do," says Feder, "was to demonstrate the richness of this art form, and in particular to display Schirmer's depth in this area." However, Schirmer's anthology doesn't make a firm or non-negotiable distinction between "opera" and "musical theater." "We included 'musical theater' pieces by composers like Stephen Sondheim, Kurt Weill, Richard Rodgers, and Jerome Kern quite deliberately," Feder notes, "as a way of exploring the range of American musical works for the stage."
The inclusion of Sondheim, Rodgers, Kern, and other "popular" Broadway composers also boosts the marketability of Schirmer's series. Certainly, although Feder says that her company wanted to "push the envelope" in terms of repertoire selections, both Schirmer and Boosey created these anthologies with an eye towards their potential customers, particularly students and younger professional singers. Rick Walters says, "With a college market in mind, you try to include famous material as a 'hook' of recognition. Around those well-known works, you then build in other pieces that have less visibility."
Both publishers say that this special regard for a collegiate audience also had some influence in establishing the range of the selected arias' technical difficulty, although unquestionably some of the selections are vocally quite demanding. "Another factor that we had to consider," Walters notes, "was the question of whether or not the accompaniment for these arias would even work as piano reductions. Quite often, the answer in contemporary music is 'no.'"
"American stage music is so diverse," says Walters. "For that very reason, the Schirmer anthology is titled American Aria Anthology, and not American Opera Aria Anthology. The broadness of the selections points to the broadness of the American stage music spectrum."
For the Boosey & Hawkes anthologies the idea was to look at repertoire from a programming perspective, according to Jenny Bilfield. For example, she says, "We wanted to create an anthology from which singers could perform multiple—and quite diverse—works in the course of a single recital."
In addition, the availability of aria anthologies such as these make American opera repertoire far more affordable to students and young professional singers. "For example, if a young vocalist wanted to explore repertoire, buying individual scores would become prohibitively expensive very quickly," points out Richard Walters. He notes that American music publishers are, as a whole, more collection-oriented than their European counterparts to begin with, as the buyers' perception is that collections give greater value than individual scores. (Walters hastens to add, however, that European houses are quickly following the American publishers' lead in this arena.)
Because these anthologies are sold outright to customers rather than rented, there's no way to track their usage easily. However, according to distributor Hal Leonard, the anthologies combined have sold about 20,000 copies thus far, which Richard Walters calls a "very significant" amount. Indeed, Schirmer's volume for sopranos has been reprinted twice already, and the mezzo volume has gone through one reprint; similarly, Boosey's anthology for sopranos has been reprinted. However, Hal Leonard would not disclose specific sales numbers for these two series in any more detail.
As Walters says, "Sales for individual contemporary pieces aren't considerable, by and large, so the fact that these anthologies provide a wide variety of repertoire is particularly attractive, and provide steady sales. What's important," he adds, "is that these anthologies are adopted by teachers, so that then 'on assignment' purchases are made by students."
In addition, observes Walters, he is already seeing those sales translate into audition settings. "I've been a judge for the Metropolitan Opera auditions," he notes, "and I've heard pieces that are included in these anthologies being used in those auditions. That's very heartening."
New Jersey-based soprano Melanie Mitrano, who uses the Boosey & Hawkes series extensively, says that having this repertoire in a readily available and easy-to-use format has been very important to her. "These publications really fill a void," she notes. "For example, I used to have some of this material in manuscript form—and it can be challenging for, say, a pianist at an audition to read from those manuscripts. It's so nice to be able to pass one of these arias in a very readable format to someone I haven't worked with before."
As mezzo-soprano Sahoko Sato notes, the kinds of pieces published in the Boosey and Schirmer volumes are precisely what she needs, although as with a number of other singers contacted for this piece, she was previously unaware that either of these series even existed. "These days, singers are always asked for 20th-century English-language arias in auditions," Sato observes, "and American operas themselves seem to be more frequently performed now."
"In the past," continues Sato, who splits her time between New York City and her native Japan, "we always had to look for full scores—and sometimes even those are hard to find. For example, I once had to sing an aria from Little Women, and I had to have a friend send it to me from California!"
Mitrano, who specializes in new music, says that while students in her own studio are by and large not bringing these arias to her, these editions have made it easier to present them to some of her own, more advanced students. However, she uses these works in her own career, particularly in competition and audition settings.
"I'm not sure if singing this kind of material necessarily helps or hurts my chances," she muses. "That really seems to depend on the individual circumstances." She does feel, though, that presenting arias of these varieties does help her stand out in a crowded field.
"I really believe that a lot of these arias are certainly tougher vocally than much of the standard repertoire," says Mitrano, "and I feel that they require more musicianship from singers. They call for more effort, a better ear, and a more acute sense of rhythm—and of course by and large there are fewer models on which to base one's approach to these arias. It's not as if one hears them often enough in performance, or can run down to the local record store and pick out ten different recorded interpretations."
There are differences in styles of presentation between the Schirmer and Boosey series. Perhaps most significantly, all four titles in the Boosey series include a CD; the recording features the piano accompaniment for each aria included in the collection. The Schirmer anthology does not offer this component, but features twice as much material. The Boosey volumes carry a list price of $29.95; the Schirmer volumes list at $24.95. While there might be some potential consumers who would hesitate to spend another $5 on what initially appears to be half the material, the advantages of having an immediately available accompaniment for these arias is already a huge savings.
Jenny Bilfield says that the inclusion of the CD is "an essential component of the series," considering the target audience for American Arias. While Boosey & Hawkes have also offered accompanying CDs to some of their choral titles and to Meredith Monk publications as well, Bilfield feels it is a particularly strong selling point for their American Arias series.
"A lot of student singers don't have pianists accessible to them, or have the resources to hire someone to work with them," she observes. "So having the accompaniment already there, bundled into the book, really provides the proper context for each of these arias, and adds extra value for the buyer." (In addition, artistic context might be of special importance for those works that are underrepresented—or not at all available—in recording.)
Lack of access to certain individual arias with piano accompaniment has also meant that Sato has felt unable to capitalize on music that is already in her repertoire. "For example," she delineates, "I've sung in three Menotti operas—The Old Man and the Thief, The Medium, and Amahl and the Night Visitors—but I hardly ever sing excerpts from them, simply because they weren't individually published as arias." (Baba's aria "Afraid, Am I afraid?" from The Medium is included in Schirmer's mezzo-soprano volume, as is "All that gold!" from Amahl and the Night Visitors.)
Soprano Mitrano cites Boosey's CD as being a particular bonus for her and her students. "You know, there are many singers who are not great pianists," she laughs, "so it's wonderful to have the accompaniment right there and ready to go. And of course many of these scores are quite challenging not just for the singers, but for professional pianists as well! So having that CD as a resource is extremely helpful."
Walters observes that perceived value is important not just to his student buyers, but to his market overall. "Generally speaking," he says, "We find that consumers of sheet music are more conservative than, for example, CD buyers. Purchasers of CDs or other forms of recording might well purchase something on a whim, or buy an album with the knowledge that they might only listen to the recording once or twice. Consumers buying scores purchase them with the intent to use them—to study, practice, and perform from them—for years."
So has the success of these two anthologies caused either publisher to consider any future projects that might have a similar basis? "There's no cause-and-effect relationship between the two American arias anthologies and forthcoming projects," contends Rick Walters, "but certainly there are projects on the way that share something of the same ethos."
Jenny Bilfield has a slightly different take. "The success of our American Arias anthology gives us reason to look at our other vocal publications with a fresh eye," she says, adding that collections by Jack Beeson and by Richard Hundley have been published, while another of Ned Rorem's work is currently on its way. The next "most likely" songbook collections under consideration by Boosey & Hawkes would be of music by Carlisle Floyd and John Adams. Similarly, Schirmer's Feder notes that Schirmer will be publishing a single volume of American art songs this June, and also on the way is a Menotti project which, like the American Aria titles, will also be packaged with a CD.
Bilfield maintains that the arrival of both anthologies points to a vigorous current in the singing world. "The fact that both sets of anthologies were issued around the same time is really a strong statement about the zeitgeist," she says emphatically. "Recently, there's been such a surge of activity in terms of the creation and propagation of new American operas, for one thing, and before we published this series teachers and students alike indicated that there would be strong interest in such a project. For our part, the series was intended to bring the important and creative voices of American composers into the canon of vocal study and performance."
***
Anastasia Tsioulcas is the classical music columnist for Billboard Magazine, and also writes about classical music, world music and jazz, for a variety of mainstream and special-interest publications, including Gramophone, Chamber Music America, Jazz Times, and Down Beat, O (The Oprah Magazine), Travel & Leisure, the San Francisco Chronicle, and Time Out New York.