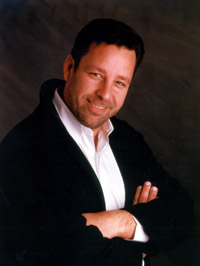 Steven Sloane
Photo credit Stas Rzeznik
42-year-old American conductor Steven Sloane has been named Music Director Designate of American Composers Orchestra. Mr. Sloane begins his artistic planning duties with ACO effective immediately, and will make his Carnegie Hall debut with the orchestra in March 2002. He will become Music Director beginning with the 2002-03 season, succeeding Dennis Russell Davies, ACO's founding Principal Conductor and Music Director, who will become Music Director Laureate at that time. Also effective immediately, composer Robert Beaser, ACO's Artistic Advisor since 1993, has been named to the newly created post of Artistic Director.
The announcement comes as ACO's 25th anniversary season in 2001-02 is on the horizon, and represents the culmination of a search that included nearly 3 years of planning, beginning shortly after Mr. Davies announced his intention to retire. Mr. Sloane's contract runs through the 2005-06 season.
"I am very excited by the opportunity to work with such a great ensemble," Sloane commented in a telephone interview. "I think that the American Composer's Orchestra is one of the most important artistic institutions in the United States." He is pleased that the Orchestra has strong ties to Carnegie Hall, and he hopes to strengthen those ties in the coming years. One benefit of this alliance, according to Sloane, could be some new works co-commissioned by the Orchestra and the Carnegie Hall Foundation. He also plans to use his new position to "break down traditional definitions of what orchestras do The ACO is partly a service organization, and it is our job to bring to the public a broader span of the orchestral experience."
Sloane hopes through his programming, to "take away some of the sharp definitions about what is new music" by blurring the lines between classical music and other genres. In addition to the Orchestra's current series at Carnegie Hall, Mr. Sloane will be developing new programs specifically designed for Zankel Hall, currently being constructed beneath the mainstage, slated to open in 2002. His current plans would involve a smaller ensemble in "varied" projects that include multimedia components such as dance and film. This is one of the ways that he sees the ACO functioning as an "umbrella" for a "variety of endeavors." Mr. Sloane would also like to form larger "projects" around Orchestra concerts. Such a project might be a weekend of activities organized around a "dramaturgical theme," embracing not just concerts, but possibly also plays and a museum exhibition.
Steven Sloane is currently Music Director of Opera North (UK) an General Music Director of the City of Bochum Symphony in Germany, as well as Principal Conductor of the English Northern Philharmonia. For the last three years he was also Music Director of the Spoleto Festival, USA. Mr. Sloane's recent performances include the American premiere of Heiner Goebbels' Surrogate Cities at Spoleto this past summer. Mr. Sloane presented the work, which is scored for amplified orchestra, voice, percussion and computer sampler, in a suitably dramatic setting: an abandoned theater. With the Bochum Symphony, Mr. Sloane has offered such eclectic programming as "Monteverdi Meets Maderna," "Jean Cocteau and his Paris, "Trans-Atlantik" (exploring connections between Germany and America), and "Assimilation: Jewish Identity in Music," earning the German Publishers Award for the Best Programming of the Year. This season, taking the Junge Deutsche Philharmonie on tour, Mr. Sloane performed George Crumb's Pulitzer Prize-winning Echoes of Time and the River.
Among the many contemporary composers whose works he has performed recently are American composers Michael Daugherty, Joan Tower, Steve Reich, John Adams, Tan Dun, Christopher Rouse, John Corigliano and Stewart Wallace. He has also championed many of America's early New England School composers, including George Whitefield Chadwick, John Knowles Paine, and Edward MacDowell, as well as leading European composers such as Luciano Berio, Mauricio Kagel, and Wolfgang Rihm. He has commissioned more than twenty Israeli composers, including Gil Shohat, Noam Sheriff, Sergiu Natra, and Tzvi Avni.