Courtesy epitonic.com
A friend recently asked if I had an Ingram Marshall disc he could borrow. Coming from someone whose musical explorations rarely extend outside of the indie rock scene, I was happy to oblige but curious where the sudden interest had come from. The answer came back as a link to epitonic.com, a music webzine that features extensive editorial content (generated in-house) and sample tracks from each of the discs covered on the site. Epitonic's musical offerings span indie rock, folk, various electronic niches (techno to ambient), hip-hop, jazz, experimental, and then, at the bottom of the list, a pleasant shock—a section devoted to 20th Century Composers.
The majority of the content is dedicated to the site's root genres—rock and electronic music—but when the editors saw the need to expand and include an experimental section, they also saw the need to acknowledge those who led the way.
Noel Morrison, who on the seven-person Epitonic staff is "typically the QA guy but does 50 billion things which include bringing in most of the experimental and 20th-century music," explains that the editors "quickly realized that it would be hard to create an experimental music section without including some of the pioneers like John Cage and Stockhausen, Henry Cowell, people like that." Needing content quickly to flesh out the section, Morrison says, "I called up one of my favorite record labels, New Albion, and asked them if they'd be interested in working with us."
New Albion's catalogue was "perfect for us." Morrison found that the label was "totally into the idea of Epitonic and what we're about—providing a place for people to hear good music. Tom Welsh at New Albion could see our vision and he was willing to work with us."
Welsh agrees that it was a good fit on New Albion's side as well, explaining that he didn't know anything about Epitonic when he was first approached, but that Morrison's "enthusiasm and ability to see how contemporary and creative musics fit together" make the partnership a success.
Since then, Welsh says that the gains from the partnership for New Albion have been demonstrated. "The value to us is, first and foremost, to keep company with other artists and labels who are looking for the new thing. Whether rock or indie or experimental or electronic or what … taken in total, from a distance, these identifiers just fall away and the whole looks like a wealth of simply great music."
Welsh elaborates that he suspects most New Albion customers likely arrive via non-traditional paths. "I just can't believe a listener arrives at our doorstep in a Machaut-Haydn-Beethoven-Shostakovich progression and then wants to hear John Cage. Probably it's more like: generalized rock (American radio of yore) leads to indie/noisy rock (Sonic Youth) leads to freeform stuff (Zorn) leads to new ways of thinking about listening. Interestingly, we could probably trace a similar path whether we use rock, jazz, or electronic music as a starting point."
Sales seem to be proving Welsh's suspicions. " I have indeed heard from people who said 'I bought such-and-such after hearing it on Epitonic.' " Our existence is based on not only great music but also the notion that there are genuinely curious listeners out there, and Epitonic seems to be betting on the same idea."
Overall, Epitonic draws it's content from well-respected independent labels in each genre. New Albion continues to dominate the 20th-century section, but it's not intended to be a monopoly. "We'd always like to expand that area," Morrison says, "It's just a matter of time."
Though the section is still small, the 20th-century composer pages usually net 8 to 10 percent of the site's traffic. Epitonic founder Aaron Newton says that the site overall usually "gets somewhere around 2 million listens or downloads a month, so [the 20th-century portion is] still pretty sizable considering the fact that it's one of the smaller genres, but it is definitely dwarfed by house or hip-hop or indie rock. Those definitely get the lion's share of the traffic."
But those indie rockers and hip-hop enthusiasts may have found a friendly way to explore an area of music they have been passing over in the record bins. And that kind of genre hopping and discovery is the impetus for the site in the first place.
When Epitonic launched in 1998, Newton explains, he and friend Justin Sinkovich were frustrated with the methods of getting music online—sites such as emusic.com and mp3.com. "None of them really focused on educating me about interesting and new music," Newton says. "They were all about either helping artists get their music out there or it was a place for people to trade extremely popular music."
So they decided to start a music e-zine themselves that sorted through the avalanche of available music, admittedly based on their own personal tastes. For each disc featured, the editors offer a short essay and links to the musicians involved, similar artists, and other "if you like this, you might also like…" suggestions. But most uniquely, users can listen to a few complete tracks from each album or stream through sample tracks of the albums featured in a particular genre or page on the site at no cost. Newton says the content has been honed and structured to meet the site's mission. "It's really first and foremost designed to help people discover music. And the fact that you can download it and listen to it is just a catalyst for that."
Newton says it's like a cross between going into your favorite record store and getting a monthly music magazine. "There's so much out there and especially today when the barrier to getting music is in some ways lower than it used to be, because you have other things like mp3.com, so our place in that picture is as a guide."
But that still leaves the issue of how they're paying for it. "I should say that I and the other two guys that started Epitonic [Scott Bilby and Justin Sinkovich], none of us were really business people." Instead Newton describes the founding staff as largely "technology buffs, but more than anything they were music freaks."
And as a number of music sites have been finding out over the last few years, making enough money to stay afloat (let alone turn a profit) can be a daunting if not impossible task. "A revenue model in this environment is extremely difficult to come by," Newton says. The site started out with a pay-per-track download system similar to emusic.com, but that strategy was quickly scrapped when it became evident that consumers were not interested in purchasing tracks. "It didn't help us accomplish the mission we set out for which is to help educate people about new and interesting music, so we abandoned that." Enter Sputnik7, the entertainment site that picked up Epitonic as a subsidiary a year ago. "They have given us the financial stability to try and find different ways to monetize out content," Newton says. In return for their financial support while they develop, Epitonic's staff provides them with technology and marketing assistance.
Though recent user surveys show that they could now charge users who want to listen to the music, legal barriers prevent them from charging for anything but their original content, which they don't do. Though compulsory licensing up for debate in Congress could change those rules, for now, Epitonic relies on Sputnik7 and advertising revenues to pay the rent.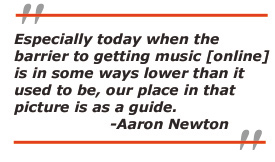 If and when compulsory licensing levels the field, Newton sounds confident that the packaging will be what separates the field. "If everyone has the same content, the technology and the editorial are the only things which are unique. So when these companies start looking for people who have editorial to help people use their system, we'll fit into the picture that way." In the meantime, "we are a resource for music fans to find out about interesting band that they wouldn't find out about otherwise."
They are continually working to build up quality content, but that takes time and care. Also, Morrison points out, "We can only work with record labels that want to work with us. The New Albion thing was a landfall of sorts for the 20th century music and really makes up most of that genre on our site. Getting more is a matter of going out and schmoozing with a lot of other record labels."
Meanwhile, labels interested in working with Epitonic are welcome to come knocking on their door (due to staffing constraints they do not generally accept submissions from independent artists).
Morrison invites any classical label interested in partnering with Epitonic to check out the site and drop him an email. Once he can get out from under the pile of CDs currently cluttering his desk, he'll get right back to you.