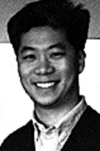 Chris Younghoon Kim
Artistic Director, Brave New Works (Ann Arbor MI)
& Assistant Conductor, Louisiana Philharmonic Orchestra (New Orleans LA)
I believe a conductor's primary goal is to be a composer's advocate. I have found that presenting new music to a community can be an uphill battle. There might have been negative experiences in the past, which caused audience members or even musicians to shy away from new music. Despite many worthy efforts, many times new music is treated and presented in a manner that is least conducive to fertile growth.
Creating something meaningful and beautiful requires patience and attention span, which are in short supply in our culture. I have found the best way to present new music is to first engage the performer. If the performer is engaged about the music, then the audience will be drawn into that situation in which the performer believes in the composition and the composer. That is the only way to achieve true communication between audience, performer and composer.
With Brave New Works, we decided from the beginning it would be a performer-based new music ensemble. We programmed and continue to composers we believe in. Forrest Pierce, Jacqueline Jeeyoung Kim, Tom Schnauber, Carter Pann, Evan Chambers and others are composers, with whom we fight the fight for new music together. It is easier to fight the battle when you have powerful ammunition.
I became a conductor because I believe in new music. If through my effort I am able to champion composers, I believe that is a life with some worth.