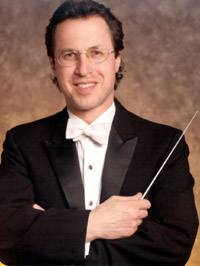 David Alan Miller
Photo by Gary Gold, courtesy Albany Symphony Orchestra
Music Director, Albany Symphony Orchestra (Albany NY)
The reason I perform so much new music is that I love to talk to composers. It all started when I was at the New York Youth Symphony and we created a series of commissions by young Americans called First Music. Every concert we did featured a world premiere. Not only did I love being something of a midwife helping to bring these wonderful new pieces into the world, I pretty much hate to have a concert without something alive and breathing on it. I almost wouldn't think of doing a concert without it.
So I was very fortunate to have the opportunity to come to Albany New York, which has a long tradition of championing American music and the music of our time. One of the wonders of working in Albany is that if I program a concert without the work of a living, breathing American composer, both the players and audience complain! Perhaps Albany is a rare oasis, but I think that every community's musicians and audiences want symphonic music to be a living, ongoing tradition. And if you play compelling, exciting new music and integrate it into your program, it will be received enthusiastically. I've found this around the country and around the world.
I also found that the process has reinvigorated my approach to the music of dead composers. While at the Youth Symphony, I channeled Shostakovich to the point that my wife was starting to get a little worried about me! More recently, a great part of what I do in Albany and elsewhere is to perform significant under-appreciated works by Americans who are no longer alive. My work with living composers ranging from John Harbison to Gabriela Frank, has made me better able to understand and interpret composers like Roy Harris and Morton Gould.