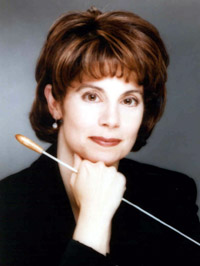 JoAnn Falletta
Photo by Jim Bush Photography, courtesy Buffalo Philharmonic
Music Director, Virginia Symphony (Norfolk VA) & Buffalo Philharmonic (Buffalo NY)
I feel a responsibility to perform American music, but it is also a privilege. I am an American, and since I grew up in the same culture, it is easier for me as an American to understand their voices.
While studying at Mannes and Juilliard, I met many young composers and realized the difficulties they encountered in getting their works performed by orchestras. We often compare our American culture with European cultures, and Europeans have been playing music by their own composers for centuries. We do not give our composers a chance to develop if we do not do their works. We expect our composers to emerge fully developed instead of giving them a platform through which they can learn. Sharing the creative process with composers can be very exciting for audiences and orchestras alike.
There's an unique excitement one receives from working on the first performance of a piece with the composer. Since I am not a composer, collaborating on a new work is the closest the orchestra and I can come to actually creating a work. That can be a very special satisfaction that can be deeper than performing works that have been performed countless times.
In the last ten years I have found that audiences have been much more open to contemporary music, especially works by Americans. Players in orchestras generally tend to respond to a conductor's interest to a piece. If the conductor is committed to the work, the musicians will give it their attention and energy. Of course, it does help when the composer is present. I feel strongly that music is written in the language of its composer. For example Scandinavian music or Czech music can sound quite foreign to Americans because the spoken language – its structure, phrases and cadences – is so different. As Americans we have a natural affinity for works written by Americans.
I believe strongly that American music belongs in the mainstream repertoire. I find that most composers prefer for their pieces to be included on concerts with standard repertoire. It's also important to perform American music of the past and let audiences understand the significant cultural history of American composition.