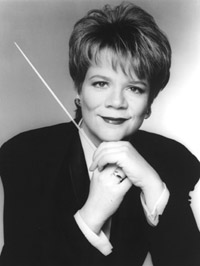 Marin Alsop
Photo by John Campagna, courtesy Concordia
Music Director, Colorado Symphony (Denver CO), the Cabrillo Music Festival (Santa Cruz CA) & Concordia Orchestra (New York NY)
I have both the great honor and the sometimes burden of being known as a conductor of "American Music." I am passionate about a lot of American music and feel privileged to introduce listeners to important and often profound work. Since I try to program at least 10% of my programs with American repertoire, this seems to be a much higher percentage than many other conductors and can sometimes lead to a strange stereotyping or pigeon-holing where my repertoire and strengths as a conductor are concerned. I, therefore, tread this fine line between these two worlds – why they are distinct worlds escapes me, of course!
I have dedicated the majority of the Cabrillo Music Festival's programs over the last decade to American composers and many of them attend and participate in the concert preparation and process. This, to me, is a genuinely thrilling experience for all involved – from listeners to musicians to composers, etc.
With the Concordia Orchestra that I founded in NYC I have made American repertoire the orchestra's calling card, especially jazz-influenced rep – I started doing this in 1984 long before the concept of "crossover" even existed and it has proven to be a very rewarding profile for the orchestra.
But mainly I champion those composers whose music I simply cannot live without: Chris Rouse, John Corigliano, John Adams, Aaron Jay Kernis, Joan Tower, Libby Larsen, Jon Deak, Michael Daugherty, to name a few.
These composers who transform and transcend, changing our perceptions, are truly contributing to the quality of everyone's lives. Promoting their music is an honor for me and has only enhanced my career by affording me entrées to orchestras that are interested in American repertoire. Of course it is up to me to vary that repertoire at a re-engagement!
I feel strongly that it is also my obligation – but I use that word in the most positive sense – to promote, program, nurture the composers that I believe in. As a Music Director I am the ambassador to the community for symphonic music and I have an obligation to them as well to bring them great new experiences that will affect them in a deep way.