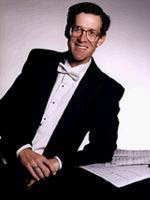 Timothy Russell
Photo by Thomas Hogan
Music Director, ProMusica Chamber Orchestra (Columbus OH)
& Director of Orchestras, Arizona State University (Tempe AZ)
As Music Director of the ProMusica Chamber Orchestra of Columbus, Ohio I have had a commitment to contemporary American music since the ensemble's inception in 1978. In fact, we premiered a new piece on our debut performance. Over the past two decades we have commissioned 30 new works, and offered over 80 premieres. We also proudly offered many second and third performances. Our mission statement says that "ProMusica presents the best of traditional chamber orchestra repertoire and promotes an understanding of and appreciation for contemporary American music."
For me, music today continues to be an expression and celebration of the human spirit and a reflection of the cultural in which it is produced, at a specific moment in time. Our orchestra is a living, breathing, art-producing institution . . . not simply a museum that houses old music by dead composers. We recognize that almost all music played in the days of Mozart and Beethoven was new music, and that people today actually really do enjoy hearing the newest compositions by the greatest composers of our generation. Sadly, much of this generation of concertgoers did not grow up going to orchestra concerts. Thus, unfortunately, they do not really know the complete repertoire of the past. The good news, however, is that because of this they do not simply expect to hear their "old favorites." They are open to new music, just as they are now open to old music. Much of our audience has been joining us for a monthly adventure of great music from throughout all of history, new and old.
We try to place new music in a context, melding classic masterpieces with the many new and diverse styles of music being written by serious composers of this generation. Our audience has come to trust us, knowing that they will hear fine performances of fine pieces. We work closely with composers. We have had the privilege of playing the music of Joan Tower, George Walker, Peter Schickele, and Joseph Schwantner (to name but a few) . . . with these magnificent artists in our concert hall working with our orchestra and interacting with our audience. We present music by nationally and internationally renowned composers, Pulitizer prize-winners, as well as the best music by local and regional composers. We commission pieces, as well as play music that has already been written. We sponsor a composition contest with the Greater Columbus Arts Council.
We try to educate our audience, as well as entertain. We offer a pre-concert newsletter to our audience prior to each concert, called Prelude, which describes the music that the audience will hear. Since 1981 we have offered pre-concert lecture/discussions prior to each and every concert. These wonderful opportunities, called "Insight," provide our audience an opportunity to meet and great, and hear from, composers and performers. We have splendid program notes, written by Steven Ledbetter, that discuss each work in even greater depth. I talk from the stage prior to new pieces, in an attempt to provide the audience specific ideas to musical listen for. We have presented all-day symposia to discuss new music. We have committed to recording as many new works as we can.
New music is a part of who we are and what we do. Our audiences actually complain if our programs become too conservative. Our audiences expect to hear new music, and come knowing that they will be hearing new music. Our audiences enjoy new music . . . possibly not every piece, but most of them. We are proud of our eight ASCAP Awards for our programming of and service to contemporary American music. Our audiences are growing!! When other major symphonic organization are experiencing shrinking subscription sales, and declining attendance, ProMusica has been adding concerts and new series. Our audience is bigger than ever!
I conduct new music because I love new music. Our orchestra members have learned to play new music well, and enjoy the adventures and opportunities to bring new works to life.
Music is both a reflection of life, and a way of helping to shape our lives. The role of the arts is to enlarge our minds, touch our hearts, and ennoble our spirits. New music does this, as does old music. Samuel Johnson once remarked that, "Great art is that which pleases many and pleases long." Not all of the new music that we perform will be considered "great art," for some might not stand the test of time. But, then again, there was much music written during the time of Bach, Mozart, and Beethoven that has not survived until today. I am convinced that many of the masterpieces written in our lifetime will live on to be played in another 200 years. And, we will be happy to have been part of their birthing.
It has been said that, "A people with no art has lost its soul." For me, and for ProMusica, this includes contemporary American music.
Viva New Music!!