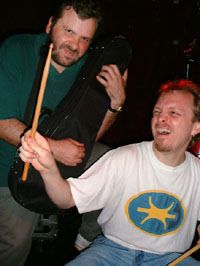 Jason Gross and Steve Smith
Photo by Melissa Richard
Much as it might bewilder major record companies and fundamentalist critics, rock isn't only background music for TV commercials and cherished momentos for teenybopper spend-a-thons. It's a lot more (and a lot less). About five years after Elvis started strumming "That's Alright Mama" for Sam Philips, Buddy Holly was crafting intricate string arrangements for his singles. A few years after that, Phil Spector was molding the music into "teenage symphonies."
With Sgt. Pepper's Lonely Hearts Club Band, the Who's rock operas and the song cycles of the Moody Blues, and King Crimson's groundbreaking In the Court of the Crimson King, England seemed to have opened the floodgates for rock's wholesale appropriation not just of classical sounds, but of classical structures. But earlier still, in California, Brian Wilson and the Beach Boys had actually set the stage for Sgt. Pepper with the unprecedented studio expermentation of Pet Sounds, while Frank Zappa and the Mothers of Invention had already proven that modern classical composers such as Varèse and Stockhausen were fair raw material for a savvy rock band.
And still it continued… the Velvet Underground emerged from the Dream Syndicate of LaMonte Young and Terry Riley to provide still another modern alternative, while the Grateful Dead took guitar sounds into uncharted territory and began to use the recording studio itself as a mind-altering substance on Anthem of the Sun. Rock had come quite a way from "Whole Lotta Shakin' Goin' On." True, part of this freedom meant the retro-excesses of Yes and ELP, not to mention such radical missteps as Deep Purple's Concerto for Rock Band and Orchestra. But it also meant a crop of wildly creative artists had their eyes opened to the expansive potential inherent in the melding of rock and more formal compositional structures.
All over the United States today, there are rock bands who are continuing to blur the lines between the accessibility of commercial popular music and the sonic experimentation of non-commercial music. While New York's Sonic Youth garnered a great deal of press for their recordings of works by John Cage, Pauline Oliveros and other mavericks last year, their music has been pushing the envelop for almost 20 years. Similarly, the work of San Francisco's Negativland owes as much, if not more, to post-Cagean tape experimentation than it does to American popular culture. While bands like L.A.'s Djam Karet and Michigan's Larval continue the maximalist timbral palette of progressive rock, Boston's Binary System, and Chicago's Tortoise incorporate minimalist processes in their work. Portland's Sun City Girls and Boulder's Thinking Plague function more like composer collectives than traditional rock bands, and Nick Didkovsky, leader of the totalist rock band Doctor Nerve, is also a member of the Bang On A Can All-Stars. Perhaps nobody blurs these lines more than Elliott Sharp, a composer who has been creating music in between the boundaries of downtown experimental music and rock for several decades.