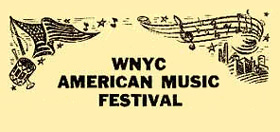 Banner from an early concert program
Courtesy WNYC
WNYC Radio, New York's independent public radio station, kicks off a seven-evening American Music Festival tonight at 8 p.m. Since 1939, the station has annually celebrated a wide range of American music, from folk to classical, between Lincoln and Washington's birthdays. This year's event covers a lot of ground, featuring over twenty American composers from Charles Ives to John Zorn.
WNYC Hosts John Schaefer and David Garland, together with Music Director Hester Furman, programmed this year's festival. The focus is on airing works that the station has had a hand in commissioning over the past 15 years, many for WNYC's 75th anniversary concert. The works were performed and recorded at a variety of New York venues such as Alice Tully Hall, Merkin Concert Hall, and the Miller Theatre. Five selections will air at 9 p.m. during the week. Other highlights include the Oscar Brand Anniversary Special celebrating American folk music on February 16 at 8:00 p.m. and an encore presentation of a Miles Davis Special on February 17 at 8:00 p.m.
Though the festival began the same year as the American Music Center's founding, Furman doesn't believe there is a direct connection. However, she says, "I think the idea of paying more attention to American music must have been in the air at that time. And I know Aaron Copland was active in WNYC's first American Music Festival."
Historically, the festival was founded to combat the perceived "dominant Euro-centric musical attitudes of the time." The early years included performances of works by Aaron Copland, Morton Gould, Leonard Bernstein, Paul Bowles, and Deems Taylor, some for the first time on radio. They also included both in-studio broadcasts and live concerts from stages around the city. Though the festival died out during the eighties, dwindling to a one-day marathon of studio recordings, recent years have seen it gradually coming back to life. Programming once again spans several days and includes broadcasts of live recordings. There are, however, no plans to bring back the live performances that were once part of the festival.
Last year, ASCAP recognized WNYC with one of their first-ever Concert Music Awards in honor of "75 years of enlightened broadcasting featuring the music of our time."
A complete schedule and live audio feed are available at the WNYC Web site at www.wnyc.org.