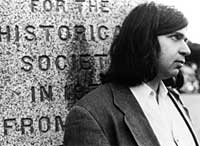 Frank J. Oteri
Photo by Melissa Richard
For my entire adult life, I have been an uncontrollable record collector. The infinite variety of music available on recordings allows eager listeners an opportunity to hear just about anything. The sad reality of being unable to hear a large amount of American repertoire or new music of any national origin in the concert hall or on the radio is countered by the ecstatic joy of being able to hear anything you want if you've got it in your record collection. And recordings allow you to take music into your home and live with it, sometimes turning seemingly impenetrable music into "personal standard repertoire" through repeated listenings.
For our second issue of NewMusicBox, we decided to focus on the record industry and its ongoing importance as a tool in the dissemination of new American music. I had a lengthy discussion with Foster Reed, founder and head of New Albion Records, about the state of the record business and the future. Sprinkled throughout our discussion are 10 RealAudio sound snippets spanning the entire history of New Albion ranging from the very first disc, Ingram Marshall's Gradual Requiem, to recent recordings by Terry Riley and Daniel Lentz.
We invite you to debate with us about the size of the potential audience for recordings of new music and the best way to reach them. For our second "hyper-history," Steve Smith has assembled a crash course in American independent record labels specializing in new music. He has spoken with the executive producers of 18 labels across the United States. (For the record, pun intended, he's no relation to Ken Smith, author of our first "hyper-history".) We asked Robert Hurwitz, President of Nonesuch Records, Laura Kuhn, Direcor of the John Cage Trust, and composers Aaron Jay Kernis, Elliott Schwartz and Derek Bermel to talk about why they buy recordings and share with us some of their recent finds. This month's SoundTracks features details about over 40 new CDs featuring American music to further peak curiosity.
Beyond the world of recordings, there are over 200 listings for June and July in our national calendar of American music performances so there are also lots of opportunities to get away from your stereo system as summer approaches. American music continues to be in the news with important award announcements from the American Academy of Arts and Letters, the American Composer Alliance and ASCAP. There are also important changes happening at Meet The Composer, the American Symphony Orchestra League and the Canadian Music Centre.
NewMusicBox wants to continue the crusade of vanguard record companies which have exposed listeners to overwhelming diversity of new American music. We hope to bring information about this music into your home on another level, hopefully offering the same joy of discovery that only comes with tracking down a great record!