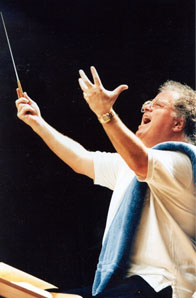 Incoming BSO Music Director James Levine
Photo courtesy the BSO
The Boston Symphony Orchestra and incoming Music Director James Levine have announced a 2004-05 season notable for its commitment to American repertoire. Wasting no time, Levine, the first American-born conductor to take the helm of the 124-year-old ensemble, has put his mark on the inaugural season.
Levine will spend 12 of the BSO's 23-week subscription season on the podium, beginning his tenure with a performance of Mahler's Symphony No. 8 on October 22. The season lineup features a significant amount of contemporary work from American and European composers combined with masterworks from the canon.
New work commissioned from Milton Babbitt (Concerti for Orchestra), John Harbison, and Charles Wuorinen (Piano Concerto No. 4 with pianist Peter Serkin) will be given world premiere performances by the BSO under Levine's direction. In addition, his planned concert programs also feature works by such celebrated contemporary composers as Elliott Carter, György Ligeti, and Witold Lutoslawski.
Carter's Symphonia: Sum fluxae pretium spei will be paired with a new work, Micomicón, written as a prelude to the Symphonia and his first commission from the BSO. Carter's Sonata for flute, oboe, cello, and harpsichord will be featured on a Boston Symphony Chamber Players concert program with Levine at the piano.
Levine has also put together "a wide-ranging survey of seminal 20th-century repertoire"—a program that includes Schoenberg's Verklärte Nacht, Messaien's Et exspecto resurrectionem mortuorum, Stravinsky's Symphonies of Wind Instruments, and Bartók's Music for Strings, Percussion and Celesta.
Several of this season's guest conductors will also lead contemporary work. David Zinman's program opens with a new piece from Michael Gandolfi—scheduled to receive its world premiere during the 2004 Tanglewood Festival of Contemporary Music. Atlanta Symphony Orchestra Music Director Robert Spano, another notable conductor on the new music scene, will lead the BSO in the world premiere of a BSO commission from Yehudi Wyner for piano and orchestra.
The complete BSO 2004-05 season listing is available here.