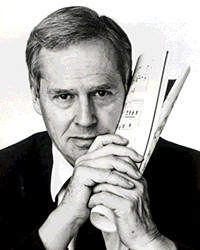 Photo by Josh Mitchell
The saddest thing in musical America today is that we are the only century in history in which the past takes precedence over the present and where performers take precedence over the music they perform. A performer of my age and reputation earns in one evening what I earn in a year, and he or she earns it by playing music of the past.
There are less than 100 paid critics of serious music in America today. The New York Times may have five critics, but Time Magazine, which has a pop music critic, does not have a classical music critic. The same is true for Newsweek and other important national publications. Just in the last year, even the Times has dumbed down the "Arts & Leisure" section so that pop dominates, and when classical music is covered, the music of living composers is barely noted.
The music of living composers is not even despised because to be despised you have to exist. Cultured lay people may know about both Dante and Philip Roth, Michelangelo and Jackson Pollock. But if they know about Vivaldi they don't know about his musical equivalent today. They only know about pop. Pop is the music of the world today, alas.
In the old days a critic such as Andrew Porter would be able to collect his writings into a book. Now not even an important theatre reviewer like John Simon can get his collected writings published. The critic is no longer a fact of life.
[Ed. Note: In 1982, Ned Rorem wrote an essay titled "Thirteen Ways of Looking at a Critic" which was subsequently published in his collection Setting The Tone: Essays and a Diary (Coward McCann, 1983). Many of the issues he raises in this 20 year-old essay are still extremely relevant today, which is why with the kind permission of Mr. Rorem and his publisher, we reprint it here.]