On any given day, the opportunities to hear live music in Amsterdam are vast; free-improvisation at a squat, experimental electronic music beamed to the moon and back at the local zoo's planetarium, seasoned street performers, and world-class contemporary music are just a few of the flavorful events this city has to offer. The scene in Amsterdam can be overwhelming at times, with concerts every night of the week, but its navigation proves easier once you get a handle on the basic lay of the musical landscape.
The world-renowned Muziekgebouw aan 't IJ is the main stage for contemporary music in the Netherlands. This stunning building, located on the banks of the IJ, is home to a wide variety of contemporary music concerts, festivals, exhibitions, and educational programs. Housed inside are multiple concert spaces, a pair of restaurants along with rehearsal space, and offices for many of the top Dutch new music ensembles. Leading contemporary groups like the Ives Ensemble, Asko Schoenberg, Calefax, and the Nieuw Ensemble frequently perform at the Muziekgebouw. The Klankspeeltuin, an interactive sound garden, located near the entrance, engages younger children to play and learn from a variety of sound installations. Jutting out from the side of the Muziekgebouw is the Bimhuis, the best venue in town to hear local and international improvised music.
If you know where to look, there is often a free concert in town. Every Wednesday around noon, the Concertgebouw opens their halls for a free lunchtime concert showcasing local and international artists. Monday Match, a free music and dance improvisation series, takes place the first Monday of every month at the Bimhuis. The free lecture series, Musiclab, along with other events at Pakhuis de Zwijger, offer a wide variety of activities revolving around music, technology, and film.
One of Amsterdam's defining characteristics is a very large and active squat culture. Residents of Amsterdam and nearly every other city in the Netherlands have been taking advantage of a legal squatting law, taking over unoccupied buildings throughout the city and turning them into interdisciplinary art centers; some with music series recently funded in part by the Dutch government! Venues like Zaal 100, OT301, Occii, and others are wonderful spaces that provide artists like myself venues in which to experiment. A short ferry ride from central station will get you across the IJ to NDSM, an area of artist-designated land larger than ten football fields. The focal point of this underground cultural hub is the NDSM Hall, a hangar-like structure 20,000 square meters in size that houses artist studios, a skate park, and many other hidden gems.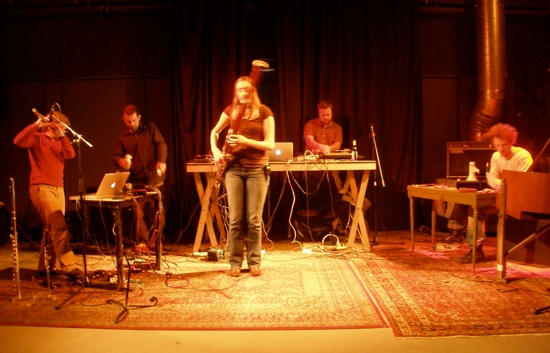 Local improvisers Anne La Berge, Ivo Bol, Dana Jessen, and Oscar Jan Hoogland team up with visiting turntablist DJ Dubble8 at OT301
There is an incredibly vibrant electronic music scene in town anchored by STEIM (Studio for Electro-Instrumental Music). Still going strong after over forty years, STEIM is home to residencies, user groups, workshops, concerts, and other happenings. They have a full-time staff working on a variety of projects from hardware development to their own software, LiSa X and junXion. There is a guesthouse for visiting musicians, a set of nice studios, and a wonderful concert space in the building. Across town at the Smart Project Space is DNK, a bi-weekly series that also favors electronic music.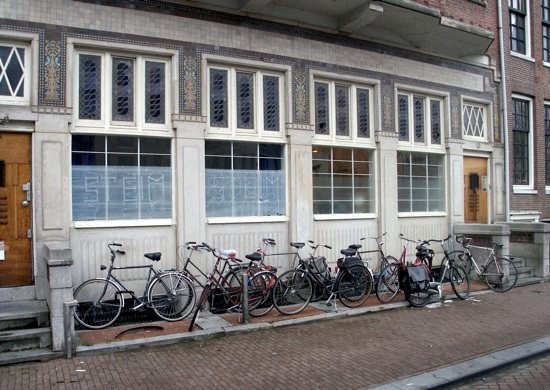 Entrance at STEIM
As locals come out of winter hibernation and the sun starts to shine again, the Dutch music festivals kick into high gear. The biennial World Minimal Music Festival seems to be picking up some steam after an exhilarating four-day debut in April 2009. The next one, in April 2011, features music from the usual suspects: Phil Niblock, La Monte Young, Steve Reich, Gavin Bryars, and countless others. Gaudeamus Music Week, which has been thoroughly written about on these pages before, brings together young and emerging composers from throughout the world and teams them up with the top Dutch new music ensembles. The Grachtenfestival peaks in late-August with the annual Princengracht concert. This outdoor concert, held on a temporary stage built on the canal, is attended by thousands of people and broadcasted nationally. The largest artistic festival in the country is the annual Holland Festival, a solid three weeks of music and art that saturates the town.
As Christopher Trapani put it so aptly in an article for NewMusicBox in 2008, "…written a piece for twelve melodicas? Or amplified triangle? How about four bass clarinets and two music boxes? Send it to Amsterdam." Octets and nonets seem to lead the way with ensembles like the New Trombone Collective and Cello8ctet. The Four Baritones, a low-end saxophone quartet, is in the process of putting together a baritone saxophone orchestra for performance next spring.
There are equally interesting unconventional venues too. Brug9, an art gallery and occasional concert space, is located in a tunnel underneath a bridge on the Singel. The Karnatic Lab, run by Ned McGowan and Gijs Levelt, showcases everything from microtonal compositions to south Indian classical music. One of my most memorable concert experiences to this day was hearing Steve Reich's Four Organs at the Orgelpark, a venue that might be the only place in the world with four full size organs! The Huygens-Fokker Foundation, a center for microtonal music, houses another interesting instrument, the one of a kind, 31-tone Fokker organ.
This celebration of the city's musical riches comes with a caution, however. The Netherlands is on the verge of loosing its grip as one of the most vibrant places for new and experimental music in Europe. The incoming right-winged government combined with the recent economic downturn and squatting ban is hitting Amsterdam hard. With the proposed funding cuts, some of these ensembles, festivals, and venues may not last another year.