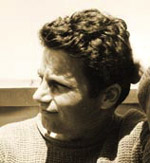 Anthony Gatto
Photo courtesy of the composer
Composer Anthony Gatto was born and raised in Brooklyn. In May of 2001, he received his D.M.A. in composition from the Yale School of Music, where his teachers were Jacob Druckman, Martin Bresnick, and Ezra Laderman. Dr. Gatto has also studied with Lukas Foss and Ornette Coleman. He has received support from the McKnight and Jerome Foundations, ASCAP, and Meet the Composer. Gatto was also the recipient of a Fulbright Fellowship to Berlin to work on his opera Ceaucescu's Prosecutor, based on the Romanian Revolution of 1989.
Gatto will use his Bush Foundation Fellowship to finish work on a new sextet for two percussionists, piano, bass clarinet, violin, and cello. Gatto describes the piece, which is based on some "compressed" melodies from the Radiohead album Kid A, as "very Downtown.'" It will be premiered as part of the second annual Festival Dancing in Your Head this coming September in Minneapolis.
The Festival Dancing in Your Head is the brainchild of Gatto, who runs a non-profit organization called Headwaters Music. The Festival will showcase musicians from around the country playing new music from around the world. Performers at the Festival will include the Bang On A Can All-Stars, the Pro Arte Quartet, Minnesota Orchestra concertmaster Jorja Fleezanis; monks from the Gyuto Wheel of Dharma Monastery; pipa player Gao Hong; and jazz bass player Anthony Cox.
Gatto has obtained Jerome Foundation money to commission four new works for the Festival. Annie Gosfield will write a new work for the Minneapolis-based new music ensemble Zeitgeist, Happy Apple will compose and perform a new work for jazz ensemble, the Meng Vang Ensemble will compose and perform a new work for Hmong mouth organs, and D.D. Jackson will write and perform a new work for solo jazz piano. In addition, the Festival's "house orchestra," Orchestra Dancing In Your Head, will perform Gatto's new sextet and Steve Reich's Music for 18 Musicians.
The event will be held on September 6, 7, and 8 at the Walker Art Center in Minneapolis. It will culminate in a "marathon" performance on Saturday, highly reminiscent of Bang On A Can's yearly events. This is no small coincidence, as Gatto hopes to work with the New York-based ensemble in turning Minneapolis into a mecca for new music. "With Bang On A Can, I want to have people thinking New York, Amsterdam, Minneapolis!" Gatto enthused.
Gatto has lived in Minneapolis for the past four years, and has taught at the University of Minnesota and the Perpich Center for Arts Education. He has been throwing his energy into new music in the Twin Cities, and so far is pleased with the results. "People in Minnesota are amazingly supportive. It's a composer's dream to have a community like this to connect with," he stated. Festival Dancing on Your Head has received support from the Walker Art Center, the Jerome Foundation and the Target Foundation.