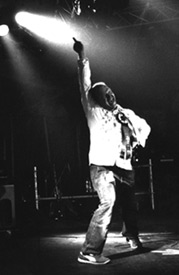 Jason Forrest (a.k.a. Donna Summer)
Photo by Bram Jacobs
Since Apple Computer Inc. adopted its "Rip, Mix, Burn" slogan to introduce the new iMac outfitted with iTunes and CD-RW drives as standard fare, it seems that stealing music has snowballed into an underground national pastime. In the most defiant act of musical plagiarism yet witnessed, during the past two years composer Jason Forrest has performed and recorded under the moniker of Donna Summer. Somehow it made sense at the time he was formulating his "cock rock disco" aesthetic, which fuses a testosterone-polluted hard rock attitude with the ineffectual gloss and glitz à la disco's heyday, all made possible with a glitch-heavy laptop approach.
Forrest is not the only one flirting with identity theft. Plenty of other plunsters are riffing off celebrity names: Duran Duran Duran (a.k.a. Ed Flis, Michael Chaiken, and Tony Gabor), Lion-el Glichie, Billy Ray Cyrix, and Rank Sinatra, to name only a few. Our 21st century appropriators are increasingly besotted with the pre-sampler past. Nostalgia has become a large motivating factor in choosing raw source material, as artists re-submerge themselves in the music they loved in their teenage years. This niche of thieves is exploring the alchemy of the music they steal from. Listening to Donna Summer's mash ups is like being bombarded with everything you remember about the 1980s, all at once.
Of course, none of this is really new. Composer Bob Ostertag, a guy who's been sampling since the advent of the technology, points out, "folk music is all about appropriation, and lifting music from older sources is how all those classical composers learned to write. Taking elements from pop culture and recontextualizing them is supposed to be this radical thing, but drag queens have been doing it for 100 years…." So why not take things further?
The actions of the literal rip-off artist Eric Doeringer certainly has precedence in Duchamp, Sherrie Levine, and Elaine Sturtevant, who used to duplicate the work of artists such as Jasper Johns, Roy Lichtenstein, James Rosenquist, George Segal, and Andy Warhol, from the original silk screens given to her by Warhol himself no less. In a piece called CD – 2002, Doeringer duplicated all 302 CDs in his personal collection at the time, repackaged them in his own handmade design, and resold them in numbered editions—can you hear the record industry's blood begin to boil? Regardless, that was more like a side project for Doeringer, who is best known for his bootleg paintings. Just like the phony Gucci bags sold by shady street corner vendors, Doeringer produces plausible knockoffs of big name artists. His canvases are usually much smaller than the originals, and bear an obvious aura of impersonation. While Doeringer usually hawks his forgeries outside the blue-chip galleries which sell the authentic work for 6 or 7 figures, he does a pretty good business at the deeply discounted price of $60 per canvas. Noted collectors and even some of the artists that he copies have snatched up some of his rip-offs.
Signaling that appropriation and recombinant art is gaining a wider acceptance, a new radio show produced in association with Creative Commons aired at the end of October. "The Creative Remix," hosted by Benjamen Walker, presented a lawyer-free look at the art of the remix. Along side a convincing plea directed at musicians and artists to identify the threats that current copyright law poses to our creative future, the informative show was a call-to-arms to reignite a dialogue aimed at changing these laws.
Whether you're out there Robin Hooding for the cause or consciously abstaining, just watching from the sidelines or haven't even found the stadium yet, a not-so-silent yet nearly clandestine war is being waged to reclaim the sounds that shape contemporary society—the stuff that we hear everyday. Even with access denied to almost everything we hear commercially, demand for music re-composed from the accumulating sound pool is actually beginning to outweigh supply. Consumers are becoming users, dissecting their iPods, learning DSP software, and using technology to rip-off, remix, and spurn the laws that threaten to shutdown the peer-to-peer networks that pass their toils into the digital ether. While OutKast, Franz Ferdinand, and a virtual parade of musical minds create the frank sonic statements that immediately define our accelerated cultural landscape. Perhaps it's the echoing aftermath of the inevitable remix that will give contemporary classical music the shot of adrenaline needed to rejuvenate its position as cultural vanguard. Use your laptops or your pencils—both are appropriate. It's time to make our music hyper-relevant. Embracing recombinant strategies rather than oppressing them is worth a try.