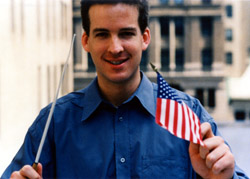 Brian Wise
Photo by Melissa Richard
As American orchestras come to terms with dwindling, aging audiences, music directors are increasingly called upon to roll up their sleeves and develop bolder, more inventive ways of awakening the public's appetite for orchestral music. The image of the Great Maestro – the heroic, omnipotent and often tyrannical conjurer who reinvents the great masterpieces with a slight of hand – has largely vanished. Instead, it is recognized that conductorial star-power must be used to better nurture and promote music of our time.
In the upcoming seasons, each of the "Big Five" orchestras welcome new music directors to their podiums. These individuals carry varying degrees of recognition, from the seasoned Lorin Maazel, 70, to Franz Welser-Möst, less-familiar at age 40. With that in mind, we have taken this opportunity to examine the resumes of the leading maestros, with an eye on their interest on new, and specifically, American music.
This survey concentrates primarily on those who will govern the so called "big five" orchestras, along with three others of comparable stature. They are: Franz Welser-Möst (Cleveland Orchestra), Christoph Eschenbach (Philadelphia Orchestra), Lorin Maazel (New York Philharmonic), Daniel Barenboim (Chicago Symphony), and, for argument's sake, James Levine, who leads the Metropolitan Opera Orchestra and is rumored to be in line to replace the departing Seiji Ozawa at the Boston Symphony. Also included in this survey are Esa-Pekka Salonen, current music director of the Los Angeles Philharmonic and Leonard Slatkin, of the National Symphony Orchestra (NewMusicBox Editor Frank J. Oteri's conversation with Michael Tilson Thomas sheds further light on his agenda).
Certainly, this critique is by no means scientific or comprehensive. Left out are such important American conductors as James Conlon, Kent Nagano, Robert Spano, Marin Alsop and Gerard Schwartz. This inquiry also does not speculate on today's up-and-coming talent (for such an examination read Norman Lebrecht's fascinating Orchestra and Opera conductors of the Twenty-first Century) nor does it focus on the orchestras themselves (for that, see Andrew J. Druckenbrod's absorbing investigation). Rather, we are concerned with those destined for the major seats of power — "the biggies."
What we do find is that today's conductors vary considerably in their respective approaches to new and American music. At one end of the spectrum is Daniel Barenboim, who is strongly committed to the acerbic modernism of Boulez and Carter, while largely avoiding mainstream, populist trends. At the other end is Leonard Slatkin, endowed with a love of American music but also a predilection for playing to the gallery. Somewhere in-between are Christoph Eschenbach and James Levine, two maestros with healthy, diverse, if never earth-shattering interests.
Also notable in the survey is the growing popularity of thematic programming. In the 2000-01 season, Salonen presents a four-part "Schoenberg Prism" series at the Los Angeles Philharmonic, while Barenboim takes on "Wagner and Modernism" at the Chicago Symphony. Both conductors have also been strong supporters their orchestra's composer-in-residence programs, with Barenboim recently extending Augusta Read Thomas's residency at the CSO for five more seasons. Finally, Salonen is the only major conductor who is also an active composer (Tilson Thomas and Maazel might be said to dabble rather than actively pursue composing), which offers some indication as to why he is also the boldest advocate of 20th-century music in this survey.
A complete list of the players: